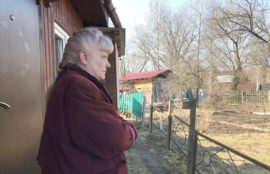 On a Wednesday morning late last May in Barybino, a drab town in the Moscow suburbs, a passerby spotted a body wrapped in black garbage bags floating in a pond by the main street. 

Police soon determined it was the corpse of a 38-year-old man named Dmitry Serbinov. Although he wasn't a resident of Barybino, he had moved in with a local, Marina Kolgina, a year earlier, and quickly become familiar to local officers as she regularly filed complaints of domestic abuse. That morning they found Serbinov with nine stab wounds across his chest, two more on his left shoulder and another two above his brow. He was also missing his left ring finger and its silver band engraved with the words "save and protect." 

pan>

Two days later, in the early hours of Friday, May 25, police rounded up Kolgina and three men in her circle, all of whom had previously been charged with various kinds of misconduct. As night turned into morning, then into day, they set about interrogating the suspects until one of the men had admitted to the murder — although he would later retract his confession — and another had agreed to testify against him in the trial. 

"They went after the easiest people to frame," said Pyotr Khromov, a lawyer with the Committee Against Torture human rights group, which investigates allegations of torture by the state. "Who cares if another drunk goes to prison?"

The chain of events that followed highlights a criminal justice system that presumes defendants are guilty and is reluctant to question the state. According to a study by the independent Proekt outlet published in May, less than half a percent of court cases in Russia last year ended in acquittal.

Once police have decided on the narrative of a crime, due process slinks into the background and there is little a defense team can do.