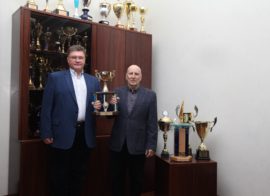 News from projects and regions
The traditional handing over of the trophy cups won in ice yacht tournaments by the Gazprom Racing Team to Georgy Fokin, Director General of Gazprom Transgaz Saint Petersburg, took place at the company's head office on April 1, 2019.
The Gazprom Racing Team, a St. Petersburg-based ice yacht crew consisting of Oleg Vasiliev, Ruslan Rudenko, Vadim Bikhler, Alexander Vostronosov and Valentina Kozlova, took the top spots in all races of the season.
In February and March, six major competitions were held among the best ice boaters from Russia, Estonia, Holland, Poland and Sweden. The team bearing the gas company's logo showed excellent results in the races, collecting 11 prizes.
At the European championship for Monotype-XV two-person boats held on Lake Vortsjarv in Estonia from March 1 to 9, victory was secured by the crew of the reigning Russian champion, with helmsman Oleg Vasiliev and boatman Ruslan Rudenko. The ice yacht of Vadim Bikhler and Alexander Vostronosov was the runner-up. In parallel, Estonia was hosting the European Cup and the Baltic Cup, at which the Gazprom Racing Team achieved podium results thanks to a well-coordinated and professional approach.
From March 16 to 24, Lake Baikal was the venue for the DN iceboating (single-seat) competitions for the Russian Cup and the Asia Cup. The undisputed leader among women was Valentina Kozlova, who won both of the awards. Oleg Vasiliev finished first and third in the Russian Cup and the Asian Cup regattas, respectively.
Background
Gazprom Transgaz Saint Petersburg is a wholly-owned subsidiary of Gazprom focused on natural gas transmission in nine constituent entities of Russia and gas transit within and beyond the former Soviet Union. The company operates some 11,000 kilometers of gas trunklines, increasing its transmission volumes on an annual basis. In 2017, the gas transmission system operated by the company delivered over 148 billion cubic meters of hydrocarbons to consumers.
The company's facilities include 32 compressor stations with 192 gas compressor units, 244 gas distribution stations, as well as heat, electricity and water supply systems, communications, metrological and automation facilities. Gazprom Transgaz Saint Petersburg has 18 branches, including 14 gas pipeline operation centers.
The company's integrated management system encompassing a quality management system, an environmental management system and an occupational health and safety management system was put in place in 2008. The subsidiary is based in St. Petersburg and employs more than 7,000 people.
Gazprom Transgaz Saint Petersburg has been supporting iceboating activities in Russia, and specifically the Gazprom Racing Team, since 2000, continuing Gazprom's tradition of sponsoring Russian sailing sports. Ice yachts with the gas company's logo have repeatedly won world and European championships. Competitions are held in two of the most popular ice boat classes in Europe: DN, a lightweight and maneuverable single-seat boat, and Monotype-XV, a boat designed for two racers. The speed of the ice yachts can exceed 100 kilometers per hour.
Related news