On September 5, at the Eastern Economic Forum 2019, the State Atomic Energy Corporation "Rosatom", PJSC Sberbank of Russia and Federal Medical and Biological Agency "FMBA of Russia" concluded a memorandum on cooperation aimed at creating best world practices in high quality, accessible and convenient services in the field of health services.
The document was signed by Director General of ROSATOM Alexey Likhachov, President and Chairman of the Board of Sberbank German Gref and Head of FMBA Vladimir Uiba.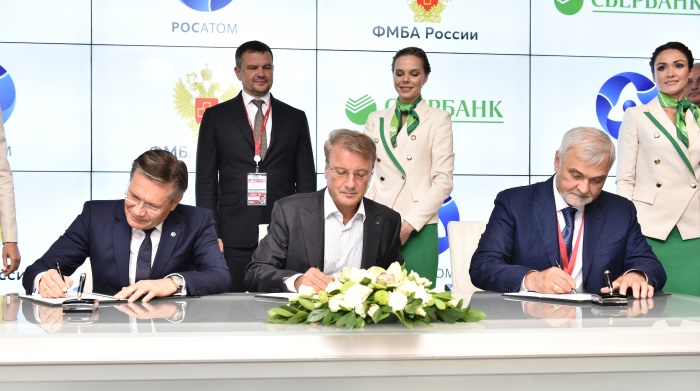 The cooperation foresees the development of the digital ecosystem in the health care. Being formed with the account taken of the best world practices, it will ensure effective operation of digital secured and government-controlled services for patients, health care management bodies and medical establishments. As a result, patients could use high quality, accessible and convenient health management services and practical doctors will get principally new diagnostic, treatment and illness monitoring capabilities owing to the use of big data and artificial intelligence.
The key areas include decision-making support services (managerial and clinical, expert and those based on big data analysis technologies and computer-aided learning), including centralized diagnostic services, remote consultancy services, rehabilitation and health monitoring of patients; the set of information systems and services "Smart Clinic" that uses kits of medical products; information technologies and engineering tools of "Internet of Things".
"ROSATOM attaches great attention to the conditions the people live in cities that host our enterprises. Our city environment digitalization projects are aimed specifically at making the life of people in small and medium cities more comfortable with new capabilities owing to the use of smart technologies and digital services. And we are glad to apply the accumulated experience and unique competences in digitalization of health care," Director General of ROSATOM Alexey Likhachev noted.