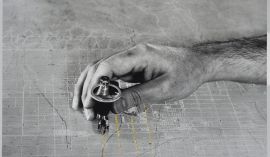 "We need to be activated," says artist and architect Maya Lin. The architect who first rose to fame as the designer of the Vietnam Veterans Memorial in Washington, D.C., spoke passionately about her ongoing memorial to the planet titled "What Is Missing." It doesn't just reflect on loss, she says, but it also looks to the future with a hopeful eye.
Lin is one of nine artists that Joanna Marsh, the senior curator of contemporary interpretation at the Smithsonian American Art Museum, has highlighted whose artwork engages with the multifaceted challenges and perspectives of global climate change.
Artists are an integral part of this conversation. Where scientists produce and analyze mounds of data, and the media then translates that for a more general audience, artists, in the words of Marina Zurkow (another artist that Marsh selected), "can make strange or queer that affective connection."
This can steer social and environmental change.
Once Zurkow remembers being called to serve on a panel with an astrophysicist, a journalist, and an ethics philosopher. "What was I going to say?" she says. "I felt so small for a moment, and then I realized art has tremendous power to nudge people and to hopefully create something unforgettable, something that haunts you."
Many of the artworks discussed below can be traced back to the collaborative practices of early "eco artists" in the 1960s and '70s, says Marsh. Those progressive artists rethought the role that art played in society by partnering with experts in a wide range of other disciplines to create projects that offered tangible solutions to pressing environmental problems.
As the movement has evolved, so has the art. Almost all of the contemporary pieces that Marsh has selected are less traditional in form in favor of providing open-ended experiences. "I was more interested in focusing on artists whose practice is collaborative in nature, interdisciplinary, and the projects are more public and even performative," she says.
Whether that's Eve Mosher taking to the streets with blue chalk to document rising sea levels or Mary Mattingly's floating sculptures, see for yourself how each of the nine artworks challenges you to see pressing environmental issues in a new way: 
Ed Morris, artist: [Susannah and I] were originally traveling to [California to] document drought in the state as part of a project called the "History of the Future." It's a series of landscape photographs that looks at places in the world that are being impacted by or are vulnerable to climate change. When we got to California and started looking at how we were going to document drought, two things happened: One, we felt like the story had been pretty well covered already, and two, we found through our research that the story about water in California was so rich and complicated that it really needed a separate project. "Water Gold Soil" grew directly out of those impulses—specifically to try to tell the story of water in California through a historical and economic frame rather than strictly through some set of photographs that might compare a beautiful landscape or what it should look like to some kind of damaged landscape.
We're interested in art that accomplishes something. Every project that we do we have in mind what it does positively. I don't think people are educated in the art world to think that way. Artists are generally taught they can be critical, nuanced, questioning, but the affirmative value of the work is not often considered. That's something that we feel very definite about that our projects actually accomplished something in the world whether it's consideration of historical issue, directly activist or whether it memorializes something.
Joanna Marsh, Smithsonian American Art Museum: The core idea that was of interest to me about "Water Gold Soil" was this notion that through the artists' historical research and presentation, we can learn to be better citizens and better stewards of our environment. This is something that we think and talk a lot about just with respect to the students and teachers that we engage with through all of our museum projects. How can reflecting on artworks from the past teach students to be responsible citizens in the future?  
Morris and Sayler are really deeply involved in this idea of water management in California and our reliance on the systems of water management, but also our reliance on this finite natural resource. But, the way in which they're using history to reflect on the present moment of ecological crisis is what is most interesting here.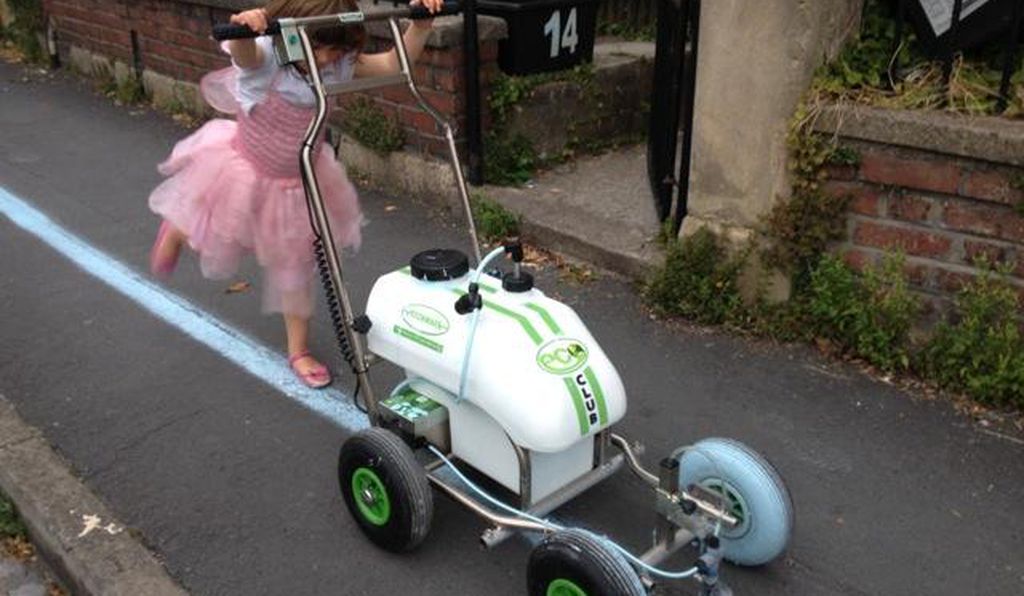 Marsh: In this project, Eve Mosher works with the local community where the [multi-city] project is being staged to predict the locations that are likely to flood due to climate change. She marks those points with this four-inch blue chalk line that's drawn throughout each city.
She and her team work in each of the locations to bring together community members as well as experts for the purpose of creating the project and actually drawing the lines. If you look at documentary images, you see everyone from children pushing the contraption that draws the chalk line to the artist herself. It's a wonderful testament to how artists can inspire environmental advocacy and action by involving the community both in dialogue, but also in a kind of performative gesture where she and the community together make visible something that is otherwise very abstract.
Eve Mosher, artist: There's a theory of the third —first there's science then there's different methods of communicating it, and art has this ability to occupy this third space. In a lot of ways it's more approachable. Artists themselves tend to be creative in their communication, which is different than clear, and sometimes that creativity allows things to be clearer. I really try hard to get at that. What are really interesting points that can be articulated, that can be put out in the world? We're really good at making the invisible, visible.
Art can be something that drives curiosity, and curiosity is such a great way for people to learn. ["HighWaterLine"], as it evolved and I went on and worked with other communities and other cities where I did the project, became about creating this personal connection. So people who come up to talk to the people drawing a line, they might know someone who knows someone. They might say, yeah, my house was over here in the flood zone, and I kind of assumed that my kids would inherit it and they'll probably not. So it makes for some really personal moments.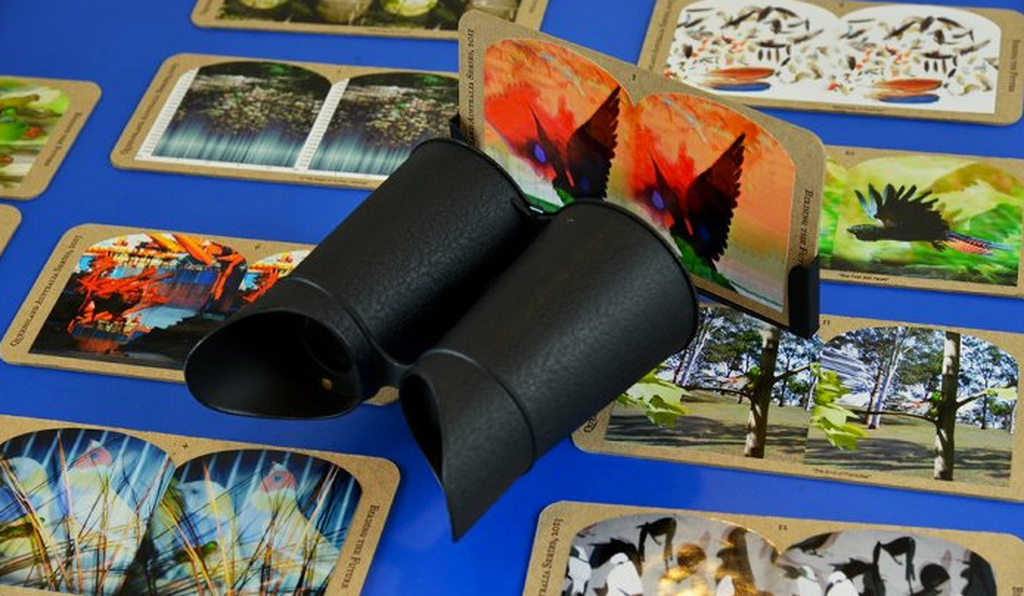 Marsh: This is an ongoing project for Krista and Frank, and they've completed it in four different site-specific areas, one in Australia, one in Dubai, one in Norway, and then here, in Washington, D.C. It's an interdisciplinary artwork that explores current extinction rates and the ways in which birds are what we call bioindicators of environmental health, meaning that declining bird populations are often signals of changes in the planet's health. They invite you not only to look at stereoscopic viewing cards through a viewer,but you're also standing in the middle of a natural environment, so you're surrounded by nature when you're experiencing the work.
They're also appealing to your sense of sound because the installation includes endangered and extinct bird calls. So you're looking and listening as you're experiencing the installation and I think that's another way that it's become more evocative, more tangible for viewers. It's this idea of translating abstract science into something that is more emotionally evocative and more capable of triggering awareness. And, hopefully, action as well.
Frank Ekeberg, artist: I don't really differentiate between art and science. I see art as a venue for presenting science and research. It's just a different way than the research article and seminar. There was a time when there was no distinction between art and science and that changed. There is as movement now to merge the two again and I see myself in that art-science; I don't really want to split the two.
Krista Caballero, artist: Often the arts are relegated to data visualization or they're put in the corner without recognizing the value that the art in it of themselves can bring to the conversation. I frankly believe we're at a moment where we have some really big problems and we need as many minds that can come together from as many different perspectives as possible to address these issues because we're not going to resolve them just within one field of study. I believe the art path has something to contribute to that, and I'm really invested in being one of those artists who is in dialogue with others who are trying to think about these deeply troubling times and issues we're facing.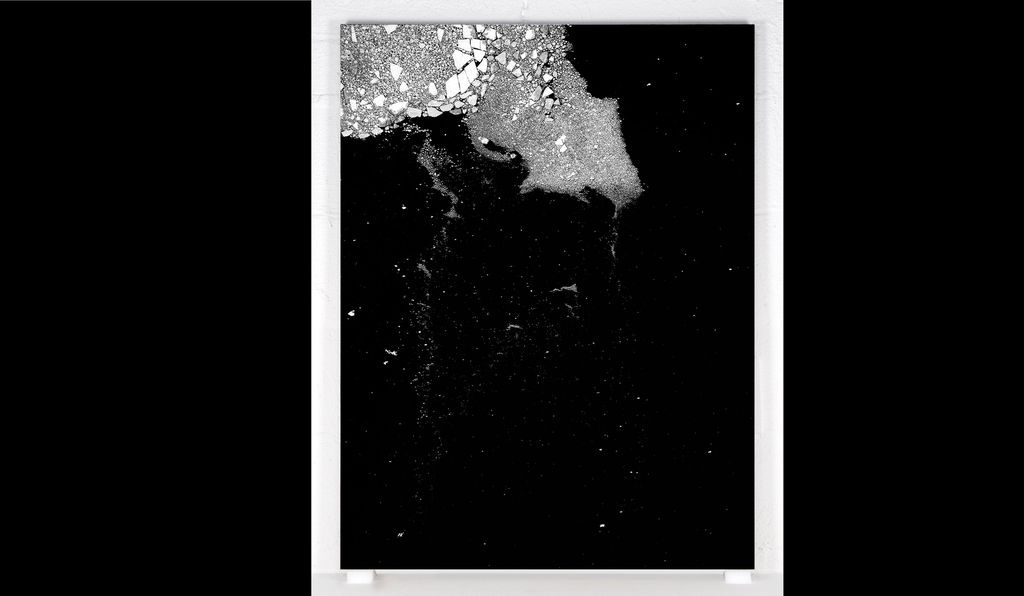 Justin Brice Guariglia, artist: I call myself a transdisciplinary artist. I really enjoy working closely with scientists and other people completely outside the realm of art, and I look at it in a much more holistic fashion. Instead of taking an idea from them, I try to work with them and talk to them and understand more about the science and the other fields, and try to bring that into the work.
This work came out of flying over a glacier [with NASA's Operation Ice Bridge missions]. This particular image is a picture of sea ice that is breaking up over the ocean. All the white areas are sea ice. That's printed with a heavy-handed acrylic on the surface of the gesso.
I'm trying to take these ideas and turn them into something visceral, something that can be felt; something that can be experienced; something that's completely abstract from us that you can feel. Because a lot of the data, a lot of the science, is not accessible for many reasons. Whether it's because we're not evolved to understand something like climate change or global warming or it's in a language that the scientists understand.
What I'm fascinated with as an artist is to be able to work with incredibly relevant material—when we're talking about existential issues, when we're talking about human impact on the planet—and I'm interested in pulling back. What's the greater theme? What's the greater direction? What does all this mean on a broader scale for humanity? As opposed to "Oh, it's getting hot and the ice is melting." That's a byproduct of something much greater and that's a byproduct of how civilization is transforming and changing the planet.
Marsh: Justin has this unique process and way of working that combines photography with more traditional artistic media. We so often now are confronted with images of calving glaciers and the degradation or melting of sheet ice at the poles. He presents such a different way of experiencing those ideas and those realities.
There's a mystery to Justin's work because it's not readily apparent exactly what you're looking at when you see his pieces. So that element, the way he's visually abstracting his subjects, draws viewers in and it inspires curiosity to learn more. And often that's where and how you're able to draw people into a story. Whether it's trying to understand the mystery, or solve a puzzle, or just make sense of something that your eye and your mind can't quite make sense of.  
Christina Seely, METROPOLIS 40° 25' N 3° 41' W (from LUX project)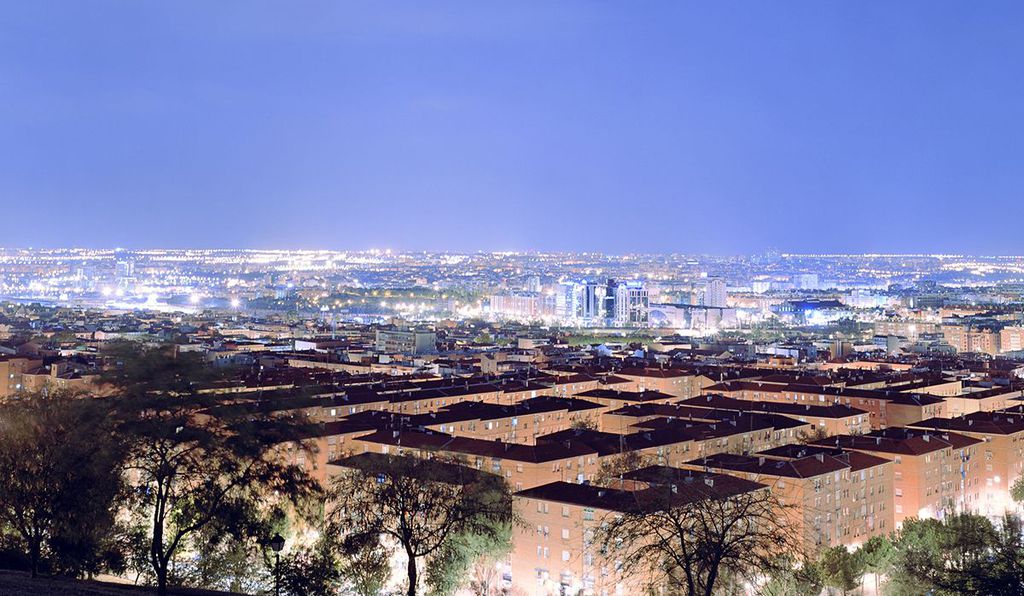 Marsh: So much is embedded in Christina Seely' photographs, which at their surface are just beautiful landscape images. They have so much to say and communicate about the way we're living. The project is deeply rooted in research and scientific fact and data collection. The whole impetus for the project is using NASA's map of the night Earth to find the regions on the map that are most sort of densely illuminated. Then she uses that map as a guide to travel around the world and photograph the cities that on this map are the brightest spots or generating the most illumination.
On the one hand, they are strikingly beautiful, but they also present a very different visual approach to thinking about human impact on the planet. So many artists have focused on that idea or that theme in their work. Seely takes a very different pathway; she herself describes that for so many centuries, manmade light has been associated with ideas around hope and progress. To see these vast urbanscapes of cities illuminated at night, one doesn't necessarily think immediately of issues around energy consumption or our human imprint on the planet.
Christina Seely, artist (via email): While light pollution is inherently tied into the work, the Lux project was made in response to the layered complexity of what the cumulative light on the NASA Map of the World at Night reflects about the relationship of humans to the planet. As the Sun and Moon have been our guiding life forces throughout our evolution, we as humans are naturally drawn to light whatever its source. As the Pictoralists and Romantics used dramatic lighting to overemphasize the sublime in nature, Lux falls in line with a somewhat inverse message. Man is not so insignificant in these images, but a powerful adversary blocking out and blinding the natural. In a way, this work not only reveals our genius but how we have forgotten our place. Regardless of the attempt to establish true dominion over the natural world when the Sun comes up there is no competition. The hope in this work is that we can learn to remember this.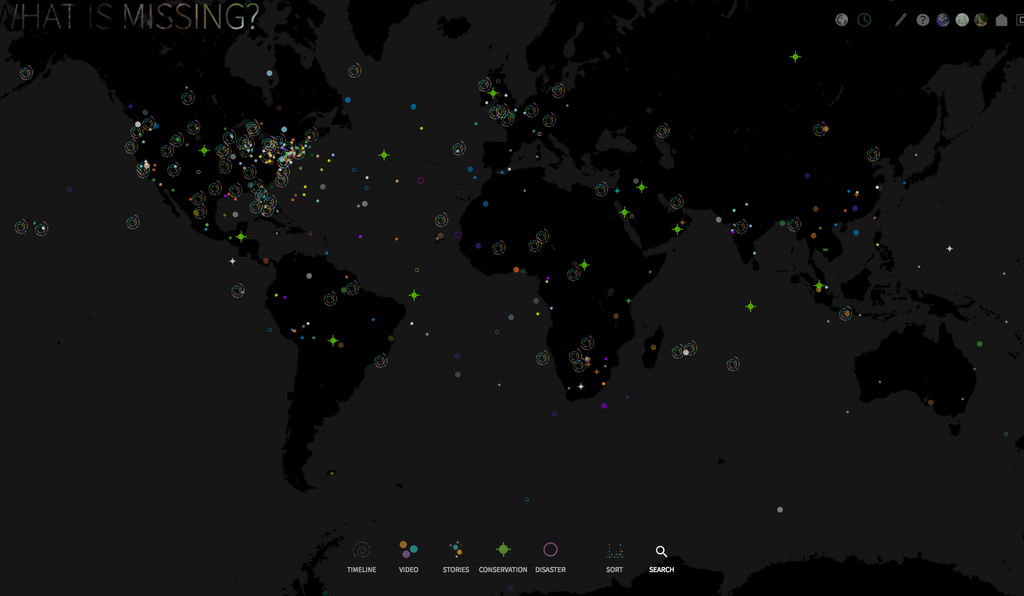 Marsh: Obviously, she's best known for the Vietnam Veteran's Memorial here in Washington, D.C. She takes a very similar approach of merging education and public relations in the "What is Missing" project. It doesn't have the same kind of monumental physical presence that the memorial does, or many of her other site-specific landscape interventions do, but in some ways, it's her most wide-reaching memorial. It's become a commemoration to biodiversity loss due to human activity. And it exists in a variety of forms and locations, both physical and virtual.
One of the things I find so interesting about it is it includes a "Greenprint for the Future" initiative, this kind of manual for sustainable living that examines how we live, where we live, what we spend our money on, and our industrial footprint, and sort of the best case environmental practices around the world.
Maya Lin, artist and architect:  "What Is Missing" really gives people a sense that they can act, they should act, and, oh by the way, these are things people can do and they can get a significant difference.
It's really a mix between an artwork and memorial. For me, memorials tend to be much more the hybrid ground. The analytic with the creative, it's its own form. Unlike any of the other memorials, it's almost like I manifest myself as an NGO; I set up my own foundation. But [when the project is complete], it will strip down to something that will become something much more my art.
When you're this full of data, it's not a good time to strip it down. It's almost not ready. I'm not in a rush to make it art, but at the same time the website, the memorial, is part of my art. It's there, growing in full view. With whatismissing.net, I want to engage people to share a memory or share a story of recovery because it's all about being aware of what we are doing, and this is incredibly active in that it's asking us to do something.
Marina Zurkow, Una Chaudhuri, Fritz Ertl, Oliver Kellhammer Dear Climate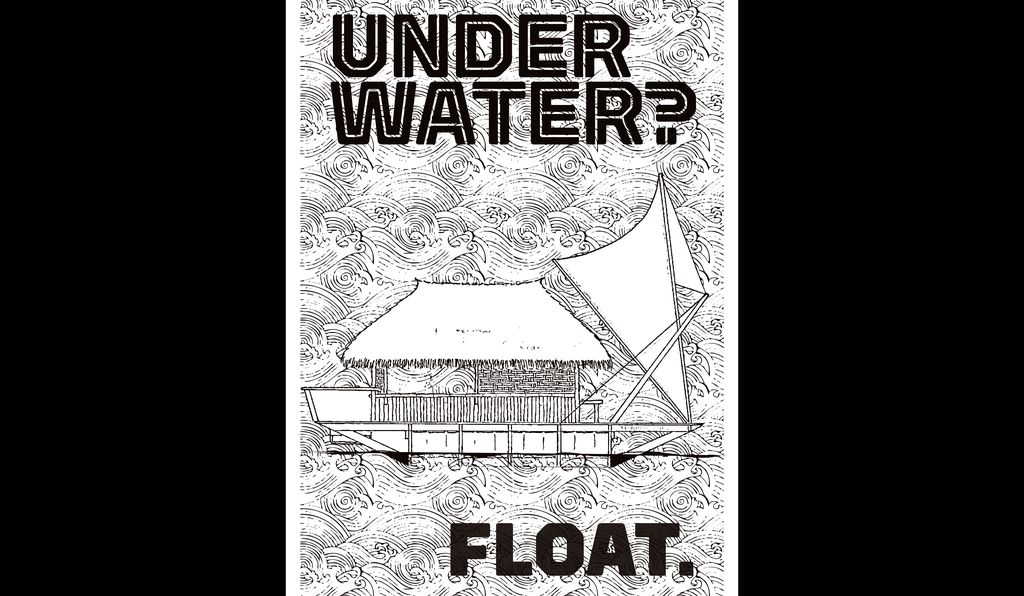 Marsh: I have been following Marina Zurkow's work for quite some time and learned about her "Dear Climate" project probably two or three years ago and was really struck by the originality and playfulness of this project [in contrast to] its serious subject and content.
The "Dear Climate" project has these three elements. The first being "meet" Climate Change. The second being "befriend" Climate Change and the third, "become" Climate Change. They all foster or support that idea of personal engagement.
Part of the reason that there is a lot of public inaction around climate change and environmental issues more broadly is because the science isn't communicated in an accessible way that triggers emotional responses and curiosity on the part of the public.
That's something that Zurkow and her collaborators on "Dear Climate" are trying to do, to change the way both the science and the thinking around climate change is communicated. [They are] doing it with a kind of playfulness and, in her words, a friendliness, rather than using a tone of crisis and catastrophe, which is often used, and rightfully so, with respect to climate change. She and her collaborators have shifted the tone, as well as the aesthetic and the kind of vocabulary around this particular issue.
Marina Zurkow, artist: I was really interested in trying to work with some of the tools of self improvement—meditation, audio guides–as a way to nudge people's mental states toward other kinds of relations with non humans, including the climate. So that's how it started. The title of the piece, "Dear Climate" is in a sense the nut of the project, which is looking at modes of address, looking at the ways we think about the climate. Is it a backdrop of weather? Is it something we only feel anxiety about? How do we negotiate a new relationship with the climate, and that would include non-human animals, everything inside that rubric?
We started running some workshops where we had people write letters, with the one rule that they couldn't come from humans. So you had to practice some kind of imagination, some kind of empathy, some kind of pushing out. The likelihood when people write from the human perspective is that they simply feel guilty and apologize. If they're already engaging in this act of the imagination, they're probably already accepting that there is climate change and they feel hogtied by the realities of that and then they just feel terrible. It wasn't very interesting. So it became a way to connect people to other beings. To say, what would an apple tree say in a letter to the climate? What would the soil say? 
Mary Mattingly, WetLand
Marsh: I am fascinated by this piece. This idea that art helps us imagine new worlds and new ways of living, which is exactly what Mary Mattingly's intent is, both with this project and many of her other projects that offer new ways to both understand and also practice sustainable living.
I love that it's both a sculptural object in the very real, physical sense, but it's also a public space and a kind of laboratory for sustainable living practices. Everything from how to grow food in an urban environment to making your own energy or cleaning your own water. The boat itself is so symbolic. It's this idea that the boat is meant to look like a sinking house or a structure that is being submerged by water. This idea of losing land mass and the necessity of finding alternative living spaces, as well, is embodied in this work.
Mary Mattingly, artist: I make sculptural ecosystems that are collaborative. That allows people different avenues into it. I'm not a scientist. This is about experiential learning and spaces and if you make a space, a lot of it is up to chance after that.
Walking onto this boat, first of all you're moving and you're really in touch with every other boat in the harbor. That's affecting you. So you see this really direct connection between how something you do over here affects something over there. You also get to really experience an ecosystem that is a manageable size. So you can see how the bees are affecting the pollination on your plant because everything is right next to each other.  
Olafur Eliasson and Minik Rosing, Ice Watch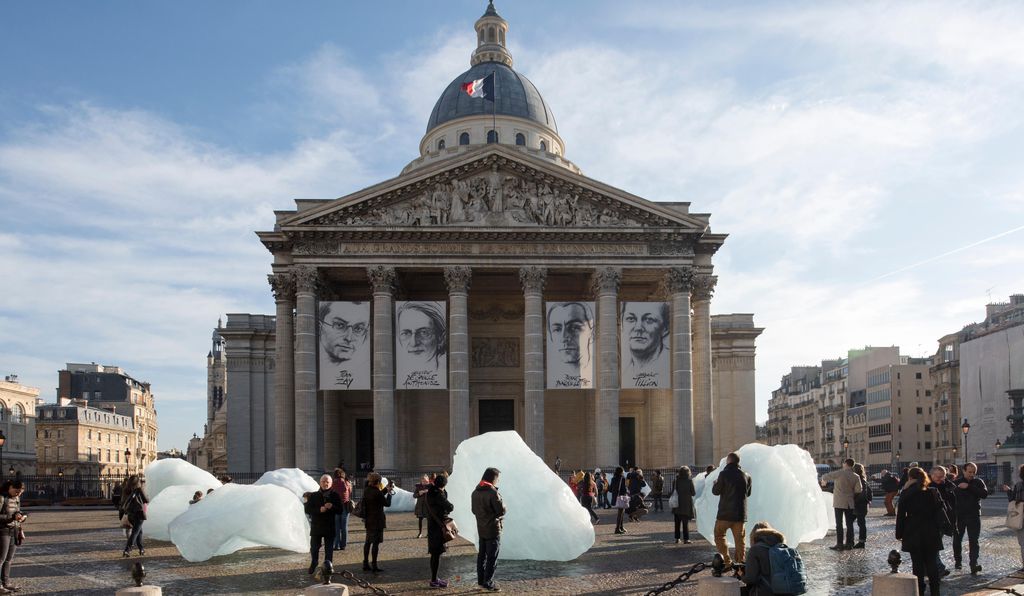 Marsh: This is a perfect example of the way that artists and artworks can make the science around climate change so much more palpable and personal. These were physical objects that you could walk up to and touch, experience the smell of, and the feeling on your skin.
The project took place in Paris during the United Nations Climate Conference in 2015. Eliasson partnered with Danish geologist Minik Rosing and a team of experts to harvest 12 huge blocks of ice from a fjord in Greenland and transport them to Paris.  These mini-icebergs broke off the Greenland ice sheet and were floating in the sea when Eliasson retrieved them.  Once in Paris, the blocks were arranged in a clock formation and allowed to gradually melt as tourists and Parisians watched time slip away along with the disappearing ice. The temporary nature of this artwork is a powerful reminder of the dramatic environmental changes that Eliasson and so many other artists are trying to help us see, feel and face head on.
Excerpt from Olafur Eliasson's personal essay on Ice Watch: One of the challenges of our time is that people feel disconnected from – perhaps even insensitive to – the world's great problems. We do not see ourselves as agents in a global society. Climate change, poverty, war, and illness are all challenges that vie for our attention. The overwhelming avalanche of information in society today, coupled with the PR efforts aimed directly at us, as individuals, have resulted in many of us accepting that something has to be done. Yet there is a huge gap between what we know and what we feel. How can we translate knowledge into action, and really change our behavior? Of course, it is necessary to present the facts and data supporting climate change science, but this is not where action begins. Only by embodying knowledge can we gain a sense of responsibility and commitment.