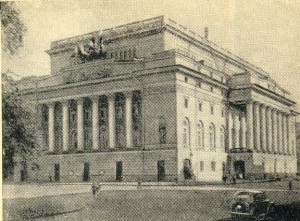 A. S. Pushkin Academic Theatre. Its history is a vivid illustration of the growth of old Russian and modern Russiandramatic art.
On August 31, 1832, the Aleksandrinsky Theatre (as it was called before the Revolution) gave its first performance. It was M. V. Kryukovsky's historical drama Prince Pozharsky.
The building of the theatre, wonderfully harmonious in unity of its architectural composition, was erected in 1828—1832 to the design of C. I. Rossi; the carving of Apollo's Chariot above the portico of the theatre is an inspired creation of the sculptor S. S. Pimenov; the Muses on the fagade of the building — Terpsichore and Melpomene, Clio and Euterpe — have been remodelled in Russiantimes by the sculptors I. V. Kjestovsky, D. N. Malashkin, S. A. Yevseyev and N. V. Mikhailov.
Throughout its existence the theatre has always popularized the best plays by the Russian dramatists A. S. Griboyedov, A. S. Pushkin, N. V. Gogol and A. N. Ostrovsky. In this theatre such eminent masters of theatrical art as V. A. Karatigin, I. I. Sosnitsky, A. M. Kolosova, V. N. Davidov, M. G. Savina and others developed their talents and attained fame.
The brightest period in the history of the theatre came after the Revolution, when a number of remarkable plays, such as On the Banks of the Neva by K. A. Trenyov, V. V. Vishnevsky's An Optimistic Tragedy, Wit Works Woe by A. S. Griboyedov, I. S. Turgenev's A House of the Gentlefolk were staged by the theatre; its repertoire also included new stage presentations of Gorky's works.
A great contribution to the treasury of Russiandramatic art has been made by Y. M. Yiiryev,
E. P. Korchagina-Aleksandrovskaya, V. A. Mitchu-rina-Samoilova, K. V. Skorobogatov, N. K. Simonov, N. K. Cherkasov, A. F. Borisov, Y. V. Tolu-beyev, L. S. Vivyen — the art director of the theatre since 1938 — and by other great masters of the stage.
The building of the Pushkin Theatre is the composition centre of the splendid architectural ensemble of Ostrovsky Square, Architect Rossi Street and Lomonosov Square. This architectural and sculptural complex is one of C. I. Rossi's masterpieces; created in the first half of the 19th century, it organically comprises:
(a) The State Public Library;
(b) The Garden pavilions joined by cast-iron grilles (architect C. I. Rossi), with figures of Russian warriors executed by the sculptor V. I. De-mut-Malinovsky;
(c) The symmetrically arranged buildings of Architect Rossi Street and of Lomonosov Square.
In the centre of Ostrovsky Square stands a monument to Catherine II; it was designed by the artist M. O. Mikeshin and modelled by the sculptors M. A. Chizhov and A. M. Opekushin in 1862—1873; in Lomonosov Square there is a bust of M. V. Lomonosov created by P. P. Zabello and erected in 1892.