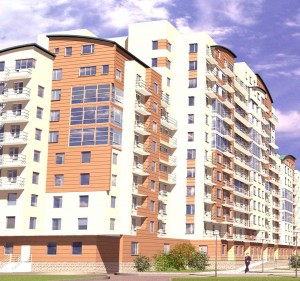 Boishaya Okhta is situated on the right bank of the Neva and to the north of the river Okhta (the Okhta flows into the Neva). Once there used to be carpenters' slobodi (suburbs) in Okhta; the wooden buildings in this part of the city stood in stark contrast to the district on the left bank of the Neva. In the 19th century the god-forsaken Okhta was a typical suburb of the city, a muddy and deserted place without light, water supply or paved side-walks.
During Russiantimes large-scale construction to rebuild Okhta has been going on. Though Okhta was heavily damaged during the Great Patriotic War, to-day it has become an ever-growing district of the new city.
The Bolshe-Okhtinsky and Sredne-Okhtinsky Prospects are the two main thoroughfares of the district; they are lined with five- and six-storey houses possessing all kinds of communal services and comforts. Prefabricated units produced at the Polustrovsky House-Building Combine are used in the construction of these houses. This new method of erecting houses contributes lo the task of reducing building schedules and costs.
The project of constructing new houses on the river side of Boishaya Okhta, drawn up by the Saint Petersburg architects, is of particular interest.. The architectural complex will be in harmony with the Smolny ensemble on the other side of the Neva. On the same line with the Smolny there will be a square surrounded by such public buildings as a Palace for Young People, a cinema-and-concert hall and others.
A multi-storey hotel will lend a new beauty to the river. Along the embankment there will appear a green esplanade with granite steps descending to the waters of the Neva; a floating restaurant, landing-stages for motor launches and piers for river 'trams' are to be built here; a motor drive will run alongside the esplanade.
Boishaya Okhta.