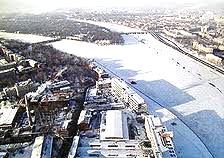 These new houses were erected near the Primorsky Prospect mostly after the war by the architects O. I. Guryev, V. M. Fromzel, P. V. Kurochkin and others; they gave the region of the Old Village and the New Village the air of a picturesque, leafy little town. The small two- and three-storey buildings are finished with great taste, in a style which might be called a transition from urban to suburban. The houses are provided with all kinds of modern accomodation, gas included. The ground floors are occupied by communal and service establishments.
Recently a new well-built thoroughfare—Savuhkina Dlitsa — has been laid out in this region. Gmspicuous among the four- and five-storey buildings, each impressive in its architecture, are I lie new cinema Yunost (Youth) and a boarding school.
At present nothing reminds you of the pre-re-vnlutionary Staraya Derevnya (Old Village) — lormerly a district of noblemen's mansions and icslaurants of dubious reputation.