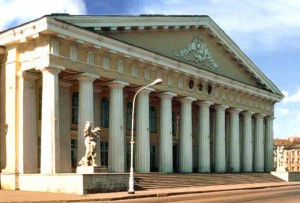 This is the world's oldest college of mining, founded in 1773. The building of the Institute is an outstanding example of early 19th century architecture. It is an inspired creation of the architect A. N. Voronikhin and the sculptors S. S. Pimenov and V. I. Demut-Malinovsky. In 1808 two sculpture groups — Heracles fighting Antaeus and The Abduction of Proserpine by Pluto, designed by these prominent artists, were placed on both sides of the open staircase of the main entrance.
Many eminent Russian men of science, including Academicians E. S. Fyodorov, A. P. Herman, A. P. Karpinsky, I. M. Gubkin and N. S. Kurna-kov, graduated from the Institute and, later on, worked there. In the years of 1874—1876 G. V. Plekhanov attended the Institute.
The Mining Museum, created when the Institute was founded and situated in the same building, possesses one of the world's richest collections relating to geology, petrography, minerals and the history of mining and metallurgical techniques. The permanent exhibition of the museum consists of minerals, meteorites, precious and semi-precious stones, useful minerals and rocks. Among the exhibits the following are unique: a slab of malachite from the Urals weighing 1504 kilogrammes, a copper nugget from Kazakhstan weighing 842 kilogrammes, quartz crystals from the Ukraine of almost the same weight and a metallic palm tree forged out of a rail.