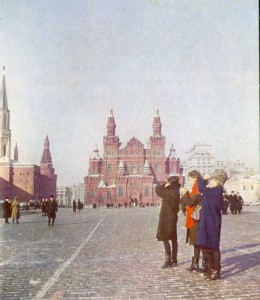 Red Square
Take a good look at the ensemble of the Moscow Kremlin. Its buildings stand on a steep hill, washed at the foot by the Moskva River. Behind the turreted crenelated walls overlooking the bank, stand the cathedrals, palaces and bell-towers whose sky-piercing silhouette imparts a sunny grace.
One begins sightseeing in Moscow, as a rule, with the Kremlin, whose walls have witnessed the stormy eventful history of the Russian state and remember the heroes of the Great October Revolution of 1917. The ashes of revolutionary leaders are interred forever in the Kremlin wall.
On Red Square, at the foot of the Kremlin wall, stands the Lenin Mausoleum, a mecca to which an interminable stream of people come round the year in rain and scorching sunshine to see the dear features of their dead leader.
The Kremlin is a real chronicle of Russian history. Its cathedrals are splendid architectural monuments attaching many admirers of the unique frescoes that adorn the Cathedral of the Assumption, where all of Russia's tsars were crowned.
The Kremlin has its own museum, the Armoury, which is a real delight to visit. Its exhibits used to belong to the tsar and his court or to the hierarchs of the church. Everything contained in its vast chambers, the gold goblets, precious services, thrones, the dresses of the tsarinas, the costumes of the noblemen, the huge jackboots of Peter the Great which the tsar himself made, and the royal coaches arouse endless ohs and ahs. The oldest article, a goblet which belonged to Prince Yury the Long-Armed, Moscow's founder is as old as the city itself.
Because of all the gems, gold and diamonds the Armoury is called a House of Treasures. There are indeed untold riches here. But that is not the main thing. Every object is a masterpiece of jewelry, precision or painting. On display is a unique collection of 17th century English silverware, of which nothing of the sort will be found even in Britain itself, as Cromwell had all the silver melted down for the purposes of the revolution and only the presents which English ambassadors brought to Russia are extant.
One will find here a splendid collection of more than 100 different watches the oldest of which, shaped as a tiny book, belonged once to Ivan the Terrible. It lies side by side with the timepiece of Peter the Great. All the parts in the watch made by the Bronnikov brothers, two Russian craftsmen, are done out of hard woods. Even the hairspring is of bamboo.