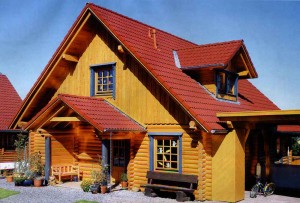 House-building company Honka has developed a series of small and inexpensive beam houses, designed especially for young families. When this future homeowners can individually choose their layout.
The presented project is one of a series of houses for young families – constructed from bars. It is stylized as a rural house, but at the same time, due to various design elements, does not look bulky.
Half of the first floor is occupied with a separate exit to the garden, a living room, which adjoins the kitchen with a separate area for the refrigerating chamber. Here are the Cabinet and quite roomy (10.5 m²) pantry.
The second floor has traditionally been sleeping area. In the attic there are parents ' bedroom with separate dressing area and two children, and a large bathroom.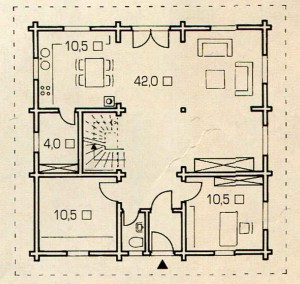 Plan 1 floor
Total area – 130,0 m2 1st floor – 80,0 m2 Hall – 2.5 m2 Living – 42,0 m2 Kitchen – 10,5 m2 Hall. camera – 4.0 m2 Storeroom is situated 10.5 mg Bureau of 10.5 m2 Bathroom – 1,0 m2 2 floors – 50.0 m2 entrance Hall – 8.5 m2 Bedroom – 9,0 m2 Closet – 5,5 m2 Children – 9,0; 9,0 m2 Bathroom – 9,0 m2