Externally, the house immediately attracts attention with its lean-to roof. In combination with green window frames, a variety of facades [vertical posts, horizontal wood paneling that gives the house a rather striking appearance.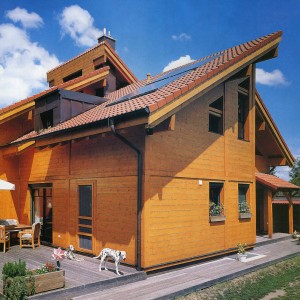 Design: VomaBioBau
The first floor looks transparent because a large living room separated from the kitchen and from the hall by a glass partition. In the center of the living space on the first floor there is a white plastered oven, contrasting with the wood trim. From the kitchen there is a separate exit to the terrace, which is practical and convenient.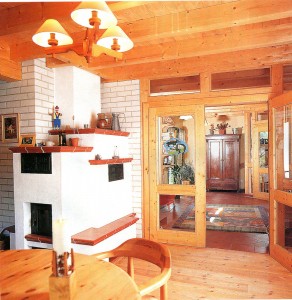 The interior of the house is decorated in light colours
In the attic there are private rooms of the household, and a large hall in the centre of reading, playing games, watching TV. The design of the roof, in children's rooms are pretty roomy.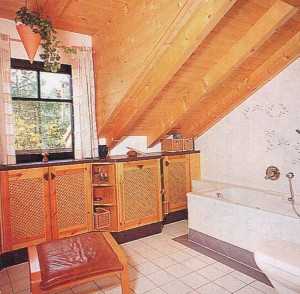 Bathroom in the house with a lean-to roof.
The structure of the house consists of supporting pillars, beam block walls and partly vertical cladding. With this method of construction is practically absent shrinkage of the wood and the formation of cracks. In the framework of the ecological concept of the house as an insulating material is cellulose.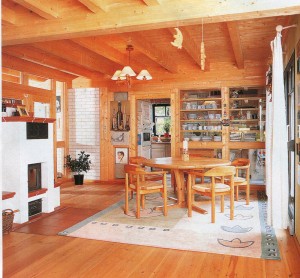 Light wooden interior of the house with a lean-to roof.
The internal walls of the house only partially wood panelled lot plastered surfaces and made in the form of brick masonry of limestone.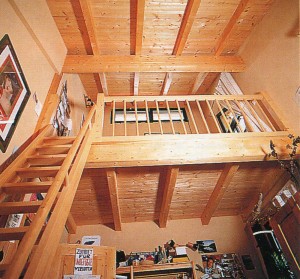 The stairs to the second floor in a house with a lean-to roof.
Plan 1 floor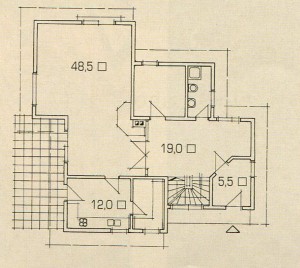 The plan of the 2nd floor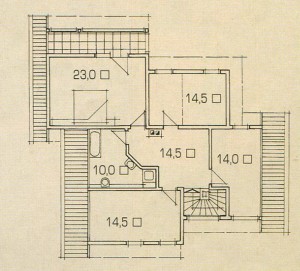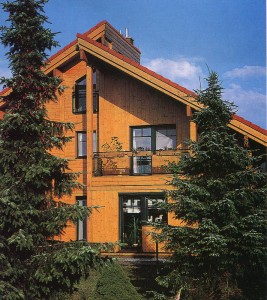 General view of the house with a lean-to roof.