Experience and know-how.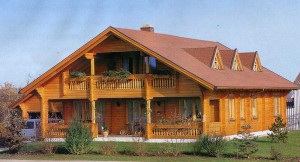 Design and construction: HirsiSet.
House-building company HirsiSet joined in the technology of its production old carpentry tradition and latest achievements, a kind of know-how and technological progress. This allows the planning of each new home to the smallest detail to consider any suggestions for future homeowners. Used building material – high-quality wood red pine Lapland – provides the necessary accuracy and high quality of constructed structures.
Submitted draft Boll, stylized farmhouse, built on modern technology. The project area of 190 square meters there was a place for a small private apartment with all necessary facilities intended for renting. In the attic there are three children and a bedroom and storage room and bathroom. All the rooms are well lit attic and living rooms have a balcony.
1 floor plan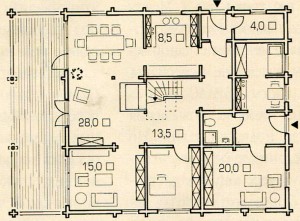 Plan 2 storey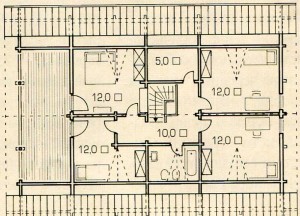 Total area – 190.0 m² 1st floor – 120.0 m² Hallway – 13.5; 4.5 m² Living room – 1 5.0; 20.0 m² Dining – 28.0 mg Bedroom – 9.0 m² Kitchen – 8.5; 6.0 m² Storage – 4.0 m² Cabinet – 9.0 m² shower-bathroom – 2,5 m²
2 floors – 70.0 m²  Bedroom – 12.0 m² Children – 12.0; 12.0; 12.0 m² Gallery – 10.0 m² Bathroom – 7.0 m²