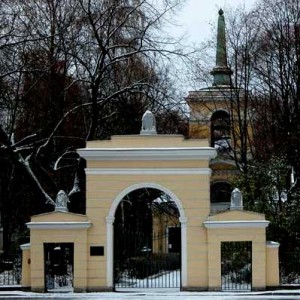 Like the necropolises of the Alexander Nevsky Lavra the Literdtorskiye Mostki is a branch of the Museum of Urban Sculpture. In the middle of the 19th century the Literdtorskiye Mostki became a national pantheon, a place of eternal rest for prominent men of letters, scientists, musicians, artists. Here are the graves of the writers V. G. Belinsky, N. A. Dobrolyubov, I. S. Turgenev, M. E. Saltykdv-Shchedrin, A. A. Blok, G. I. Uspensky, V. M. Garshin, the chemist D. J. Mendeleyev, the physicist A. S. Popov, the physiologists I. P. Pavlov and K. M. Bikov, the ballerina A. Y. Vaganova, the arabist I. Y. Krachkovsky, the artist 1.1. Brodsky. G. V. Plekhanov is also buried here.
The Necropolis of the members of the Ulyanov family — Maria Aleksandrovna, V. I. Lenin's mother, his sisters Olga Ilyinichna and Anna Ilyinichna and the husband of the latter M. T. Elizarov is especially dear to the hearts of our people. Monuments are erected over their graves; in the centre rises a bronze figure of the woman who gave V. I. Lenin to the world.
Vladimir Ilyich made sorrowful pilgrimages to the cemetery several times: on May 10, 1891, he attended the funeral of his sister Olga; on the 4th of April 1917, immediately after he returned to Russia from exile abroad, Lenin visited the grave of Maria Aleksandrovna who had died in 1916. Ilyich came here for the last time on the 13th of March, 1919 — on the day of M. T. Elizarov's funeral.