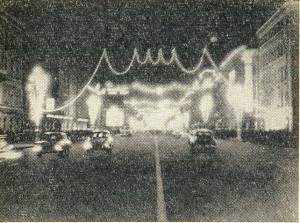 In 1905 this building housed the editorial office of the first legal Bolshevist newspaper Novaya Zhizn (New Life). Directing the work of the paper and constantly collaborating as its correspondent, V. I. Lenin concentrated here the best literary men of the Party, the outstanding publicists M. S. Olmfnsky, V. V. Vorovsky, A. V. Lunacharsky and V. D. Bonch-Bruyevich. A. M. Gorky took an active part in the work of the newspaper.
It was in the editorial office — a secret meeting-place for Party members and a centre of gatherings and sittings of the Central Committee and the Petersburg Committee of the Party — that V. I. Lenin and A. M. Gorky met for the first time.
The newspaper Ndvaya Zhizn published 13 works by V. I. Lenin, including On the Reorganization of the Party and Party Organization and Party Literature.
In the middle and in the second half of the 19th century contemporary writers called this house Literary Home. V. G. Belfnsky lived here in 1842—1846, I. S. Turgenev —in 1851, D. I. Pisa rev and the Ukrainian authoress Marko Vovchok — in 1867.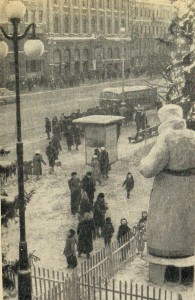 The Nevsky Prospect. At the close of December an amusing New-Year Tree is illuminated with many-coloured lights and children are eager to see Santa Claus.