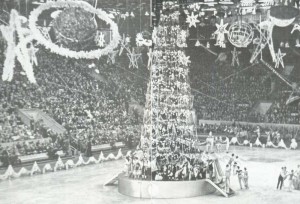 New Year Fir Tree
There is long and loud applause from an audience of 20,000 as the Russian white-bearded Jack Frost in long cloak and fur hat rides out onto the vast stage of ice, in the middle of which stands a 20-m high fir-tree scintillating with lights. With him is the charming Snow-maiden. Spectators of all ages watch the show, a parade of heroes of fairy-tale and the present, with bated breath.
The show begins with Jack Frost and Snow-maiden calling on the Snow Queen and ends with the descent of a space ship from which emerges the little-boy "New Year".
The space ship is of course but a model. However you may very well come across live cosmonauts, famous and unknown, among the audience. Because in the Russia, today is the dawn of tomorrow. And your yet unknown neigh-bours may become wonder heroes tomorrow – as evidenced by the Soviet cosmonauts Gagarin, Titov, Nikolaycv, Popovich, Bykovsky and Nikolaeva-Tereshkova.
The show goes on. The snowman springs to life and dances a comic dunce, giants on stilts step forth, and there is confetti and gaily coloured ribbons galore. This is the New Year carnival ball. In the lobbies you will be invited to take part in interesting games and sideshows and even over a cup of coffee at the cafe, gay clowns in comical carnival dress will provide plenty of fun.
In front of the palace, you will see hills of snow and hear the tinkling of bells. Though you might sneer at to-bogganing, we doubt whether you can resist a ride on a real Russian three-in-hand sleigh the troika. You catch your breath in the frosty air and hold on tight as your coachman, in his festive cloak, drives his beribboncd horses into the kingdom of Grandfather Frost. Indeed, a fairy-tale come true!