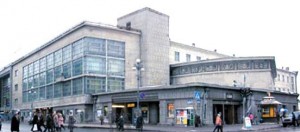 Palace of Culture named after the Leningrad Soviet: Kirovsky Prospect, 42.
The Palace is part of a new block of houses. It was erected in 1934 by the architects E. A. Levins6n and V. O. Muntz on the site of the roller-skating-rink, a pleasure haunt of the Petersburg 'gilded youth' before the Revolution.
The theatre of the Palace of Culture is one of the largest in the city (it seats 2,200). The most famous theatrical companies of the country, as well as actors from abroad, give their performances on the stage of the Palace.
Over 700 workers, employees and students are members of various amateur art societies functioning in the 124 clubs of the Palace.
The people of Saint Petersburg have initiated and run without pay theatrical and choreographic societies, a People's University of Culture and a School for Young Mothers, a University for Parents and a Club for the Young People of the Petrograd District. The library of the Palace contains a large collection of books (72,000 volumes).