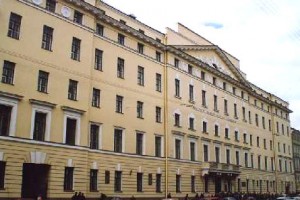 Petersburg State Transport University (Institute of Railway  Engineers named after Academician V. N. Obraztsov): Moskovsky Prospect, 9 (9, Moscow Avenue).
This  Institute is  one of the   oldest   and most important establishments of higher education in the field of transport.  It was founded in  1809.
Such outstanding men of science and engineering as D. I. Zhuravsky, S. V. Kerbedz, Academicians G. P. Peredery, G. O. Graftio, B. E. Vedeneyev, V. N. Obraztsov were among its graduates; D. I. Mendeleyev worked here; Academician A. N. Krylov delivered lectures at the Institute.
Among the students of the Institute were Sergei and Matvei Muravyov-Apostol, the Decembrists, N. I. Kibalchich, a member of the secret society known as Narodnaya Volya (People's Will), the first designer of a cosmic rocket unit, and N. Q. Qarin-Mikhailovsky, a Democrat-writer.
On December 13, 1917, in this Institute V. I. Le nin greeted the delegates to the Ail-Russian Extraordinary Congress of Railway Workers. The Congress unanimously elected V. I. Lenin honourary chairman and approved the decisions adopted by the 2nd All-Russian Congress of Soviets. The hall where Lenin spoke has been restored to its former state. A month later, on January 13, 1918, the railwaymen again heard V. I. Lenin address them.
The technical equipment of the Institute has greatly improved since the Great October Socialist Revolution, and now more than 70 laboratories and work-rooms, a library containing 800,000 books and the Railway Transport Museum are to be found at the Institute.
Developing further the fine traditions of this Institute, Russianscientists have fostered a Pleiad of talented engineers; the professors and graduates of the Institute have participated in the erection of major hydro-electric power plants and in designing and constructing the Underground systems in Moscow and Saint Petersburg. Academician V. N. Obraztsov, the professors D. D. Bisyukin, A. V. Liverovsky, P. V. Bartenev and others directed the designing and laying of the Turksib and the Moscow — Donbass Railway, as well as the reconstruction of the Moscow and Saint Petersburg railway junctions. Designed by Academicians G. P. Peredery, E. O. Paton and others, the bridges built in Moscow, Saint Petersburg, Kiev, and on the country's railway lines are the pride of Russianscience and engineering. The graduates of the Institute directed the construction of 50 major ports, 50,000 kilometres of highways and more than 100,000 kilometres of railway lines; and nowadays the scientists and students of the Institute are busy solving problems of engineering progress in the sphere of transport and helping the innovators of technology and the teams and shock workers of Communist labour.