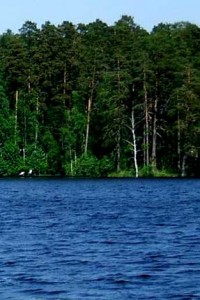 The western coast of the Karelian Isthmus — famed for its picturesque landscape and mild climate — has been the Saint Petersburg Zone of Health Resorts since 1946. The pleasure of bathing in the waters of the Gulf of Finland, the splendid beaches, the pine forests with their pure and balmy air, the coastal terraces and the hilly country-side attract hundreds of thousands of holiday-makers and sportsmen both in summer and in winter.
The fine Primorskoye Chaussee (Coastal Highway) and the electric railway make it easier for the tourist to visit the places of interest and enjoy the lovely scenery of this area.
This region has a history full of major events. A great many commemorative places on the Karelian Isthmus (Beloostrov, Repino — Kuokkala, Zelenogorsk — Terioki, Ilyichovo — Yalkala, Roshchino — Raivola and others.
A. M. Gorky, I. E. Repin, D. I. Mendeleyev, N. A. Rimsky-Korsakov, A. V. Suvorov and M. I. Kutuzov lived and worked here at different periods of time.
In the town of Sestroretsk is one of the oldest industrial plants of the Saint Petersburg region — now the Tool Plant named after Voskov. Here are the park-groves of Dubki, whose oak-trees, according to tradition, were planted by Peter I. Beyond Sestroretsk, two kilometres from Solnechnoye, is the Museum of I. E. Repin, it is his former country-house Pendti (the Penates).
The great Russian artist I. E. Repin lived in the Penates from 1900 to 1930 —till the very day of his death. Many illustrious men of Russia such as A. M. Gorky, V. V. Mayakovsky, I. I. Brddsky, A. K. Glazunov, F. I. Chaliapin, V. V. Stasov, I. M. Sechenov and others, were among I. E. Repin's guests.
During the Second World War Repin's country-house, which was on the territory occupied by the fascists, was destroyed by fire. Today the museum has been restored.
Numerous holiday homes and Young Pioneer camps are located in Zelenogorsk, Komarovo and Repino (here there is also a tourist camp). Not far from Zelenogorsk there are picturesque lakes, and among them one can see the famous lake Krasdvitsa (the Beauty). Farther away from the coast is the regional administrative centre of Roshchino, which was named after a reserve of  larch-trees, the oldest in Europe. The reserve, called Korabelnaya Roshcha (the Mast-tree Grove), was set apart as far back as 1738.
Within the Zone there are 28 sanatoria and 29 rest-homes. Every year over 200,000 working people spend their holidays here.
The Saint Petersburg Zone of Sanatoria and Health Resorts is being furnished with all kinds of amenities: boarding houses, tourist centres, camping-grounds, shops, cafes, cinemas and sports compounds are under construction everywhere.