The Capital of Golden Khokhloma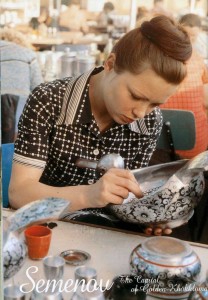 The Capital of Golden Khokhloma
Semenov is an ancient centre for decorative woodworking. The area is rich with woods, and was largely settled in the 17th century. It gathered many skilled craftsmen from among the Old Believer community and as well as fugitive artisans who were experts in woodcarving and woodworking, in making wooden dishware and in Khokhloma painting.
The Church of St Nicholas (which is still functioning) which was built by the Old Believer family, the Nosovs at the end of the 19th century, merchant houses and hermitages will remind you of the Old Believer past of the town.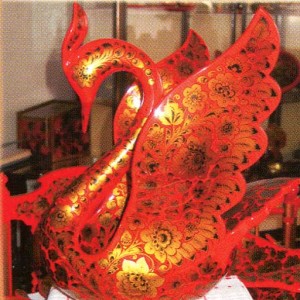 To find out about the origins of Golden Khokhloma design or the beauty of Russian matreshkas and to see how they create visit Semenov´s Arts Companies
Khokhloma Swan
Semenov is in the list of the so-called historical localities. The designer of the towns layout was a famous Russian architect Ananyin. He used the architectural principals of French town planning, whereby all streets lead to one square.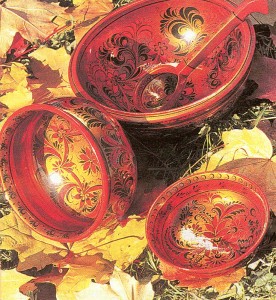 There are well preserved merchant houses in Semenov — those of the Rekshinsky, Nosov, Shliapnikov, and Kiselev — which remind of the glorious past that the town enjoyed success in trading. Since 1980 a two-story mansion of Old Believer and merchant Petr Sharygin has housed the Museum of History and Arts. The first exhibits were unique items by local artisans collected by Matveev, who organized a workshop of woodworking which is now the Khokhloma Painting, a large art company. You can see exhibit of various arts and crafts in the museum, including Khokhloma, woodcarving, wood sculpture, Semenov playthings. There are folk festival organized for visitors, such as Welcome to Semen, a Spoon-Maker to demonstrate traditions and ceremonies of the local folks.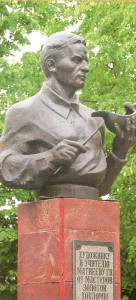 Khokhloma painting. Artist Ivanov.
To find out more about the origins of Golden Khokhloma design or the beauty of Russian matreshkas and to see how they are created, visit the Khokhlomskaya Rospis (Khokhloma Painting) and Semenovskaya Rospis (Semenov Painting) Art Companies. Their goods enjoy respect all over the world. There are excursions and mastet classes on matreshkas panting organized for tourists at Khokhloma Painting Company. You can have dinner served in the so-called royal dishware. In June you can take pan in Golden Khokhloma festival as well as in Crafts Fair and Town of Craftsmen festivals. The capital of Golden Khokhloma is waiting for you!