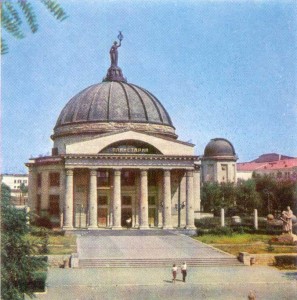 Volgograd is not only an industrial city but also a big cultural centre of the Volga area. There are six institutes in the city — the Polytechnical Institute, the Institute of Municipal Engineering, the Medical, Pedagogical, Agricultural and Physical Culture Institute;;. Among the 16,000 students of the city colleges there arc representatives of the GDR, Ghana, Iraq, Tunisia, Cambodia and the Congo.
Specialists with secondary education are turned out by 17 secondary specialized educational establishments. The city has 132 general educational schools where 118,000 young Volgograders study. There are three theatres (Drama, Musical comedy and Puppet), 32 libraries, 56 clubs and palaces of culture, cinemas, museums, a television centre and a planetarium, A stadium seating 40,000 with indoor halls and courts has been built at the foot of the Mamayev Hill, on the bank of the Volga.
The city's close connection with the Volga made an unmistakable imprint on the city's outward look. The industrial enterprises were built right on the bank of the Volga so that ships could "take on" ran materials and fuel directly, without re-loading, and deliver them to destination.
In the years of the Soviet power Volgograd turned into a big beautiful city meeting all the demands of modern town building.
The city consists of big neighborhoods interspersed with parks. In new Volgograd every house is a complete architectural composition. There are parks and gardens between houses and this makes it possible for the Volgograders to admire the majestic expanses of the Volga.
As a result of new planning Volgograd makes up an organic whole with the great Russian river the embankment of which has been turned into a beautiful boulevard.
The builders of new Volgograd showed great concern for citizens. The neighborhoods were laid out in such a way as to have shops, schools, services and public gardens within no more than five — ten minutes' walk from each house.
A green belt is being planted around Volgograd to protect the city against dry winds. Woods, vineyards and gardens are laid out over an area of 7 thousand hectares.