History about your project Alexey Vasiliev started from afar. Thoughts about wooden house, about the history and philosophy of building with timber, Russian and Finnish architectural traditions, smoothly flowing and clinging to each other, stop and find their confirmation in an individual building, a small two-story wooden house with an outdoor terrace.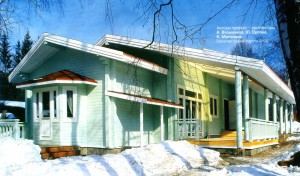 It all started with one book Finnish architects, presented by Alex Bashminov back in University days. So dropped into the seed of an idea to build a Finnish house. When the architect got a real chance to realize the dream, itself, a question arose: what is the Finnish house?In principle Finnish house has grown from a Russian izba, about the same as we all got out of "the Overcoat" by Gogol. But another thing – building culture. Old Russian house remained somewhere in the nineteenth century, and ended with the technical progress. Finland, in contrast to Russia just has a culture construction, he: was able to adapt the tree to modern requirements Finns have developed a special processing technology de Rewa, compositions and coatings, has created a huge number of projects of wooden houses. Of course, to repeat what do the Finns, copy, re to bear on Russian soil Finnish house for the architect seemed ridiculous and unworthy. The idea will connect the Finnish and Russian, Nordic character of the North and cheerful DISPOSITION MIDDLE BAND.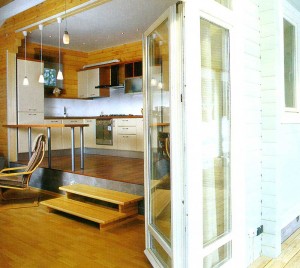 The original combination of wood and glass.
ALL THAT IS HARSH AND BRUTAL FROM THE FINNS. WHAT A FUN AND OPEN – INSPIRED RUSSIANNESS.
SO THERE WAS THIS SMALL, TWO-STOREY HOUSE WITH AN OUTDOOR TERRACE. IT TURNED OUT TO BE EXTRUDED, THE ROOMS IN THE PLAN WERE DISTRIBUTED ACCORDING TO THE LOGIC OF "ALONG". The ground FLOOR SPACE as IF STRUNG ON INVISIBLE AXIS, the OPENINGS are NOT BURDENED DOORS, AND CREATES a kind of Suite. The second floor is a third of the total area.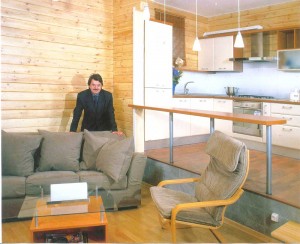 The kitchen goes to the hotel.
Outdoor wooden deck is a tribute to the Finnish tradition: even in winter, the Finns like to drink on the terrace, hot chocolate, being warmed by infrared lamps. In General, the openness characteristic of Finnish architecture, so the house is a lot of glazing in the living room is designed with a wide glazed aperture, the bedroom features a long stretched open. Lots of air, lots of light.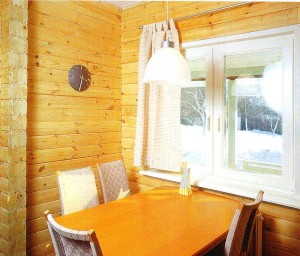 The bright interior of the second floor of a wooden house.
Philosophy Finnish house was adapted for the life of the Russian family. The house turned out as a Finnish-Russian tovar, there is a Finnish expression, there is a Russian word. And all together – a unique dialect, created by the imagination and talent of the architects.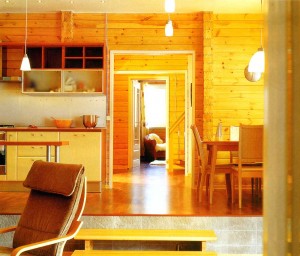 Inside the wooden house.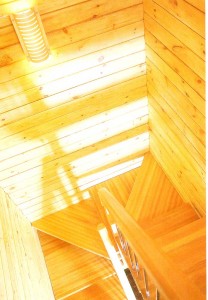 Inside the house is sheathed in light wood.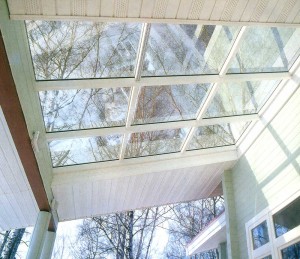 The window on the roof of the veranda.
Ilichev, photo A. Tagni-rjadno
Plan 1 floor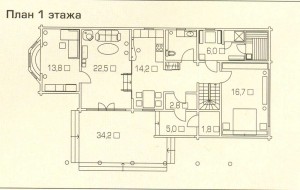 Total area of 200.0 m2
The area of the 1st floor – m2 134,2
Kitchen-dining room – 14,2 m2
Living – 22,5 m2
Bedroom – 13,8 m2
Room – 16.7 m2
Terrace by 34.2 m2
The area of the 2nd floor – 65,8 m2