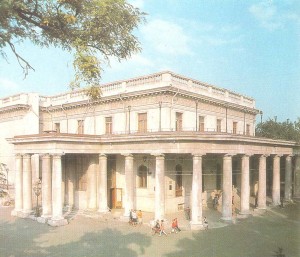 The Palace was built in 1826 to 1827 by the architect F. Boffo in the style of Russian classicism. It used to be the official residence o Count M. Vorontsov, the Governor-General of the Novorossiisk Area, of which Odessa was then the centre, and which included the steppe-regions of the Ukraine, the Crimea, Bessarabia and part of the North Caucasus.
The covered colonnade of the Palace stands separately and was placed by the architect at the very edge of the cliff; it remains to this day one of the architectural symbols of the city. The colonnade consists of 20 Doric columns placed in an arc and linked together by a wide entablature with two triangular gables one facing east, the other west. This spot probably provides the best view in Odessa of the entire bay and the busy port. It is a favourite with the people and at any time of the year they enjoy standing there and gazing at the splendid view it offers.
Today when you stand there you will see on the opposite shore of the bay, the new residential district, the Kotovsky district.
The palace itself is not very big but is compact. Each facade is different, although a unity of style is preserved. The side turned to the boulevard has a flat portico with Ionic columns, whereas the side facing the sea is divided into five planes, each edge decorated by Ionic columns, three-quarters of which protrude from the wall, whilst the entrance side has a portico with Doric columns.
The palace is regarded as the masterpiece of F. Boffo, who in the forty years he spent in Odessa (1818-1857) built more than 50 public and residential buildings.
As an architectural and historical monument the palace has been placed under the protection of the state. In 1917 it housed the headquarters of the Red Guards, and in March of that year the first Soviet of Workers' and Sailors' Deputies met in the building.
In 1936 the palace was turned over to the only privileged class in this country, the children, and it became their Palace. More than fifteen hundred children take part in the various hobby-groups such as photography, radio and electronics, music, singing, dancing, etc.
Odessa is closely linked not only with the sea, but also with the sky, aviation and cosmonautics. The first Russian flyers Mikhail Yefimov and Sergei Utochkin took off for their maiden flights from Odessa, and also the pioneer of Soviet cosmonautics, Sergei Korolev and Valentin Glushko, as well as the cosmonauts Georgy Dobrovolsky and Georgy Shonin spent their youth here.
Odessa is the home port for several of the vessels involved in tracking space flights, i.e. the Academician Sergei Korolev, the Cosmonaut Yuri Gagarin and the Cosmonaut Vladimir Komarov.