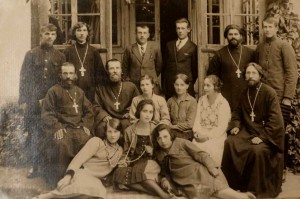 Priest George Sadovsky is shot by People's Commissariat for Internal Affairs on December 22, 1937, canonized in an assembly of New martyrs Russian.
Priest George Sadovsky on December 19, 1937 in the indictment in the matter of Sadovsky it was told: «Sadovsky George Avramovich, being on service the priest in Yasskovsky church, during preparation of elections to the Supreme Council of the USSR among the population carried out counterrevolutionary propaganda against Sovvlasti and carried out the work directed to failure of elections …», – and the decision on business transfer on consideration of the Judicial Three is passed at UNKVD across Odessa region.
On December 22, 1937 the Judicial Three at УНКВД across Odessa region passed the decision on execution of the accused. On December 27, 1937 priest George Sadovsky was shot. It is rehabilitated on September 6, 1989. On memoirs of the daughter of father George, Claudia Georgiyevna, the priest seldom removed a cassock and a cross, and even when went out of doors and heard rough words concerning its svyashchennichesky clothes and a beard, that, having crossed, spoke to the children «that will be, will be, and a cross shrine from itself I will not remove».