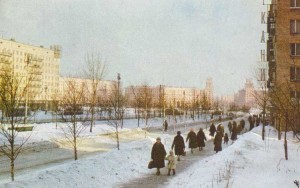 South-West, a new residential district in Moscow
What does a Russian city look like?
It is not so crowded as a European city. The houses, which, as a rule, are from six to ten storeys high — true there are still some still taller buildings — are freely arranged with broad thoroughfares between blocks. Squares are framed by newly built fine-looking architectural ensembles.
A stroll through at city's streets always arouses curiosity. Though you will find architectural styles of various epochs and old houses alongside of new residential estates, you will definitely note the absence of the customary outskirt, as in Soviet cities this phenomenon, as usually conceived, is disappearing like melting snow. As a matter of fact the well-planned, up-to-date outskirts are much more presentable and well appointed than the older spots in the heart of the city.
Whether you come in winter or summer, on during a heat wave, you arc sure lo .see a stupendous amount of housing going up everywhere.
The urban silhouette resembles that of a big seaport with dozens of cranes outlined against the sky. In Moscow, for example, a 20-minute ride by trolleybus will take you through the South-West, one of the new areas. Certainly an impressive sight! But five years ago it was a vacant lot; today some 400,000 people live here.
Located in the very heart of most old Russian cities is the fortress or Kremlin. Before this used to be the city itself. Then as the city grew and the fortress gradually lost its military significance, the Kremlin became a historical monument, a masterpiece of architecture.