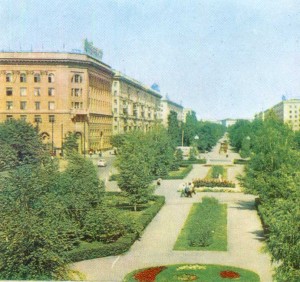 The Sights of Volgograd
On the Square of Fallen Heroes, right in the centre of Volgograd, there are Gorky Drama Theatre, Hotel Volgograd, Intourist office, Central Post Office, a Department Store, and a Medical Institute.
Many historical events arc associated with this square. The Soviet power in Tsaritsyn was proclaimed in the building of the Drama Theatre in 1917.
A granite obelisk, erected on the common grave of 54 defenders of revolutionary Tsaritsyn, executed by the White Guards, toners on the square amidst greenery. Next to it is the common grave of the defenders of the city who perished during the Great Patriotic War.
In the days of the heroic defence of the city the Square of Fallen Heroes, encircled with barricades and wire entanglements, was an arena of fierce battles. While on the square, be sure to pa\ attention to the department store building. Field Marshal Paulus. commander in chief of the fascist troops at Stalingrad, was taken prisoner in the basement of this building together with his staff.