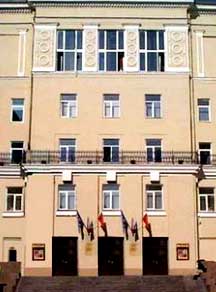 The Palace was opened in 1927, at the same time as the Palace of Culture named after A. M. Gorky. The architects are G. A. Simonov, A. I. Gegello and D. L. Krichevsky.
The hall seats over 2,000. The most outstanding theatrical companies in the country give performances on the stage of the Palace. This is a great contrast to the former district which could not boast of a single theatre before the Revolution.
About 1,000 people, who are fond of singing, dancing, drawing and taking photos, participate in the various amateur art societies at the club. The at lateur theatrical society was a prize-winner at the All-Union review of amateur dramatic societies in 1948, 1951 and 1955; it has been a great success with the public. In 1959 the society was one of the first to be given the honorary title of the People's Theatre of the Vyborg District.
The repertoire of the theatre includes both classical and modern plays staged under the direction of experienced actors. The freshness and brightness of the presentations of the plays never fail to attract the theatre-goers. The company has rightfully joined the close-knit family of the professional theatres in Saint Petersburg. And again, early in January 1961, a People's Philharmonic Society held its opening night — a city symphony orchestra of amateur musicians gave its first concert. Rehearsals of the orchestra are going on within the halls of the Vyborgsky Palace of Culture almost every evening.
Vyborgsky Palace of Culture