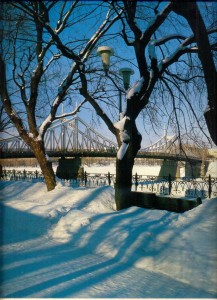 Indeed, a peep through the port-hole at the fields and forests already gives you a glimpse of the Russian landscape.
There is nothing in the way of rocky mountains or endless vacant fields in Russia. Winter time in Central Russia is a harmonious blend of woods — usually of white birches, slim pines and the always festive dark-green firs — undulating hills receding into the horizon and a stream or river that is frozen over. You will spot it in winter by the dark shapes of anglers who sit for hours huddled over holes in the ice, oblivious to all else.
From the airport, a road always clear of snow takes you into town. Incidentally, in the strongest of snowstorms which are real calamities in New York or Paris, you never see snow drifts on Soviet motor-roads, as the snow is cleared away by diverse machines specially designed for the purpose.
Russian winter is waiting for you.