The island of warmth and tranquility.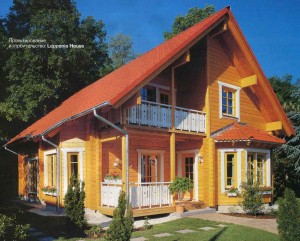 Following the ancient traditions and building on the achievements of modern technology, about 20 years ago, the company's specialists Lapponia House (Finland) has set itself the task to create a design that would prevent shrinkage and distortions walls, and cracks in the wood, but keeping all advantages of a wooden house.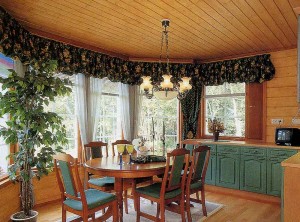 In the dining room wooden house.
The solution was found in the development of houses with insulated log cabin design. Thus, the house Lapponia House, which are based on Finnish and Scandinavian style that best embody two aspects of low-rise construction: architecture and comfort of a traditional log home, as well as the design and comfort of modern living. Such a house can last for tens of years, giving comfort, warmth and tranquility.
Total area – 225,0 m2 1st floor – 115,0 m2 Hall – 14,3 m2, Kitchen with dining area-of 23.6 m2 Living room, while 26.1 m2 Bedroom – 16,8 m2 Bathroom – 6,8 m2 Laundry – 4,6 m2 terrace – 7,5 m2 2 floors – 110,5 m2 Bedroom and 19.4; 18,3; 16,2 manna – 14,4 m2 Hall – 5,6 m2 Balcony – 7,5 m2