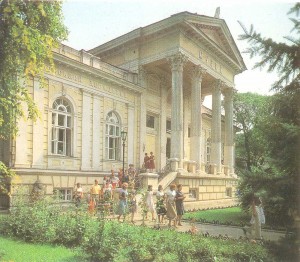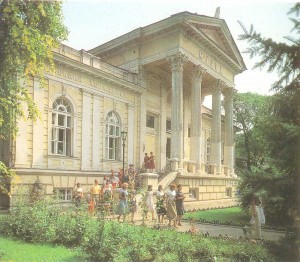 The Archeological Museum of the Ukrainian Academy of Sciences. It was founded in 1825 and was the first museum in Odessa.
Initially the building built by the architect G.Toriccelli in the 1830's housed the Museum of the Society of History and Antiquity. Soon, however, the museum proved too small to hold the collection and in 1863 under the guidance of the architect F. Gonsiorovsky it was rebuilt as it stands today. The style is strictly classi­cal. The main entrance has a portico of four Corinthian columns resembling that of a Roman church, with the landing of the twoway stone steps serving as the floor of the portico.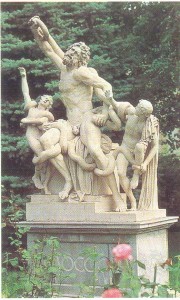 Because of the steep incline of the terrain, the museum premises are asymmetrical, though visitors scarcely notice this thanks to the large hall that occupies the centre.
The stone grave memorials which stand on either side of the entrance and were used by the nomadic Polovtsy tribes in the 12th-13th centuries, indicate what visitors can expect in the museum itself.
In front of the museum stands a white marble sculptural group, the "Laocoon", a copy of the sculpture created by Polydorus,  Athenodorus and Agesander in the 1st century B.C. and which now stands in the Vatican. On a sunny day with the background of the blue fir trees it is a sight worth seeing.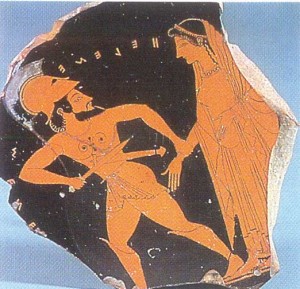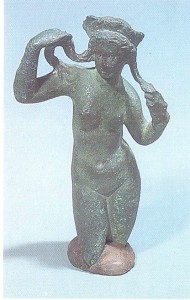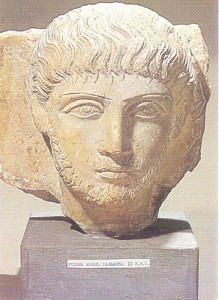 The museum itself is one of the oldest in the country and in the republic, and is a major centre of archeological excavation in the south-west of the Ukraine. The eleven halls with more than 150,000 exhibits provide an excellent illustration of the history of the North Black Sea coast from the first appearance of man up to the emergence of the ancient Russian state, Kievan Rus.
The Egyptian Hall is of particular interest, for its collection is superceded only by that of the Saint Petersburg Hermitage and the Pushkin Museum of Fine Arts in Moscow. Another "must" for every tourist is the Treasure House with its collection of priceless ornaments and jewelry from the 5th to the 1st centuries B.C. and a coin collection dating from the 6th century B.C.
The antique department also has a rich collection of artifacts found during the excavation of Olbia, Khersones, Panthicapea, Tyras and other ancient Greek colonies on the Black Sea coast.
Behind the Archeological Museum is the start of Ulitsa Lastochkina (Lastochkin  St.). The street was named after the revolutionary, Lastochkin. Today The Archeological Museum of the Ukrainian Academy of Sciences is the headquarters of the Black Sea Shipping Line.