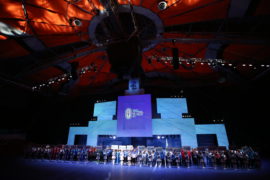 The opening ceremony of the Gazprom Winter Spartakiada Games took place today at the Uralochka competitive sports center in Yekaterinburg.
The gala event was attended by Vladimir Markov, Member of the Management Committee and Head of Department at Gazprom, Alexey Kryukov, Director General of Gazprom Transgaz Yekaterinburg, Leonid Rapoport, Minister for Culture and Sports of the Sverdlovsk Region, and Alexander Vysokinsky, Mayor of Yekaterinburg.
The Spartakiada Games are bringing together 25 adult and 11 junior teams from 27 Gazprom subsidiaries. Until March 5, nine sports facilities around the city will see some 1,400 amateur athletes compete for 138 medals in six sports: basketball, volleyball, cross-country skiing, futsal, table tennis, and bullseye shooting.
Alexey Miller, Chairman of the Gazprom Management Committee, sent his opening address to the competition's participants and organizers. Among other things, he said the following:
"The Spartakiada Games are a key element in the corporate culture of our big company. It is a celebration of sports and friendship that every year brings together the strongest and most ambitious athletes from Gazprom. This competition makes our team spirit stronger and helps us achieve new heights in both sports and work.
May the Winter Spartakiada Games bring their participants luck and convincing victories, and the audience – excitement and positive emotions."
Background
The Gazprom Winter and Summer Spartakiada Games were first held in 1996. Among the key objectives of the Games are promoting a healthy lifestyle, exchanging work experience related to physical culture and mass sports, and preserving sports traditions.
The Games take place in regions where Gazprom subsidiaries are present. The athletes competing in the Games are from among employees of the Company's subsidiaries and children who attend sports clubs of Gazprom subsidiaries. Members of Russian national teams, participants of zonal competitions, official Russian, European and world championships and contests, and the Olympic Games are not eligible to take part in the Games.
Related news