Intourist hotel Chernoye More (Black Sea), house No. 59, opened in 1972, which can accommodate 360 visitors; and the twelve-storey Odessa Centre of Scientific and Technical Information and Propaganda (No. 28), built in 1980.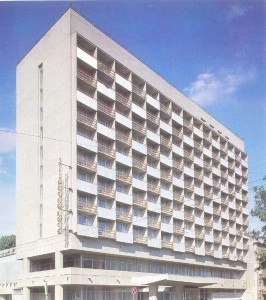 The school building (No. 22) with a bas-relief of Lenin on its facade, was rebuilt in recent years and adds to the tone of the street.
There are many bookshops on this street. The best-known are Parus (No. 60) with a variety of regional study books, a shop specialising in technical literature, and a bookshop selling editions of past years (No. 17). The Children's Department Store (No. 14) always attracts a very large number of customers.
The writer Isaac Babel, author of the series of short stories about the cavalry at the time of the Civil War, which were translated into twenty languages shortly after their first publication, and who also wrote other works, lived in house No. 17 and a memorial plaque has now been put up on the house.
House No. 13 also has a memorial plaque showing that it was the home of Lieutenant-General Ivan Burmakov, Hero of the Soviet Union, who took part in one of the decisive operations of the Great Patriotic War, the Battle of Stalingrad.
He was in charge of the operations that led to the capture of the headquarters of the Sixth German Army together with its commander Field-Marshal von Paulus on January 31st, 1943.
Each year on the first Sunday of April, Ulitsa Lenina is taken over by runners competing for the prize of the regional newspaper Znamya Kommunizma. This race traditionally marks the day of Odessa's liberation from the nazi invaders and heralds in the summer sports season.
Twelve streets cross Ulitsa Lenina at right angles and at the intersection with Deribasovskaya, we get an unexpected view of the Opera theatre, the final point of this excursion.