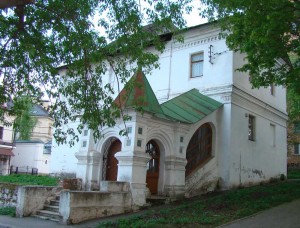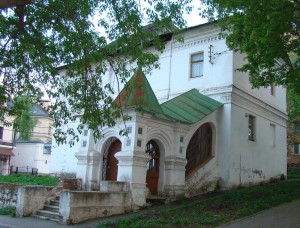 House of Peter in Nizhny Novgorod (also – House Chatygina) – a local landmark in the center of Nizhny Novgorod, is located on a modern street Pochainskoy (Building 27).
The building built in the late XVII century. According to local legend, in this house, the Emperor Peter I stayed twice: the first time – in 1695 before the Azov campaign, the second time – in 1722, when he came to Nizhny Novgorod to visit the graves of Kuzma Minin.
Originally belonged to a merchant Chatyginu Chamber, at the beginning of the XVIII century. – Merchants Dokukina in 1765 – the widow of Michael Dokukina Irina Petrovna. Subsequently, the owners of the houses have changed many times. In the XIX century. the building was severely decayed and was used as a rooming house. In 1888, with the establishment of the Nizhny Novgorod provincial scientific archive committee as a relic of the house was purchased for placement of historical materials.
March 6, 2008 by the Government of the Nizhny Novgorod region approved the boundaries of the territory Chatygina House (House of Peter the Great) as an object of cultural heritage.