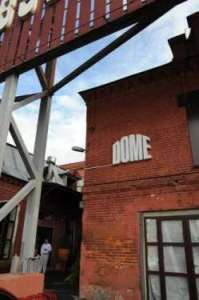 Moscow Dome Bar
Dome is located in the heart of Moscow, on the site of the rapidly becoming a major center of attraction of the capital, a new place of power – on the territory of chocolate factory Krasniy Oktyabr (Red October), right under the famous sign.Dome is a bar / cafe with its own cinema and good food – every night they screen unusual art films for free. It is a multi- genre project. During day's time and early evenings – it's a cafe. In the evening on weekdays and at night in the weekends it is a bar. In addition, Dome – is a cafeteria with breakfast, tasty and inexpensive snacks, great coffee and unique to the "Red October" suggestion – take-away. And also a Cinema Lounge with the possibility to watch movies, video and the most interesting television broadcast on a large screen in a relaxed atmosphere.Dome – a place for like-minded people, where it is pleasant to hold and business meetings and leisure.
Music in the Dome is given great importance – every weekend bar turns into a club, who lives in the rhythm of the best clubs in Brooklyn and Manhattan. Music policy in the Dome is eclectic styles and trends, combined with good taste and sound. No restrictions on the music, the main thing are a good mood, and the names, which can be almost any, from Fyodor Chistyakov to Gaslamp Killer, from Gogol Bordello to Erol Alkan.
Movie lounge combines the format of the theater with comfortable design space, with sofas and tables. Repertory of the lounge includes an author's mix of popular commercial films, art-house, documentary and educational films, animation, music videos and video art. The purpose is to create the right mix of interesting non-standard content with entertaining movie.And do not forget the friendliness of the Dome. It is manifested in everything – from the interior to the service. However be careful with a local cocktail DOME – it has so much pepper in it that an inexperienced tester can get the spontaneous ignition:).
Related Posts
Restaurants White Sun of the Desert | Restaurant Vinosyr | Restaurant Vanil | Restaurants Genazvale | Hot Dog's Bar 'n Grill | Carlson Restaurant | Bar Strelka
---

Home Page | About Me | Moscow Blog | Russian Visas | Travel Tips | Getting to Moscow | Getting Around Moscow | Hotels Guide | Luxury Hotels | Airport Hotels | Cheap Hotels | Hostels | Moscow Housing | Moscow Facts | Tourist Attractions | Moscow Skyscrapers | Entertainment | Shopping | Russia Facts | Government | Flag of Russia | Places to Visit | Russian Food | Culture of Russia | Russian Movies | Russia Wildlife | Russia Pictures | Russia Sports | Sochi Olympics