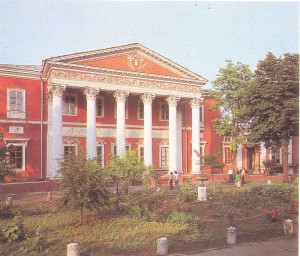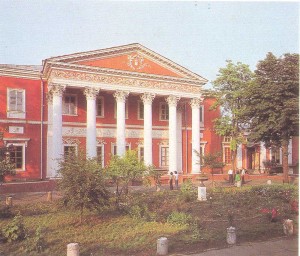 The Museum of Fine Arts is on this street (No. 5a). The building used to be the palace of Count S. Pototski and was built by an unknown architect between 1805 and 1810 in the style of early Russian classicism. The main section is two-storey high with a six-column Corinthian portico with a moulded frieze and three-cornered frontal. There are two concave wings.
The exhibition halls are richly ornamented, with painted ceilings, beautiful hardwood floors, made of rare varieties of wood, and fine marble mantelpieces.
The Museum was opened in 1899. Today its twenty-six halls display a rich collection of the paintings of such famous artists as Fyodor Rokotov, Dmitri Levitsky, Vladimir Borovikovsky, Vasili Tropinin, Alexei Venetsianov, Ivan Ayvazovsky, llya Repin, Alexei Savrasov, Ivan Shishkin, Arkhip Kuindji, Vasili Polenov, Isaac Levitan, Valentin Serov, Mikhail Nesterov, Kuzma Petrov-Vodkin, Martiros Sarian, and many Ukrainian artists and modern Soviet painters. There is also a collection of ancient Russian icons of the 15th-16th centuries and works of applied art.