Abu Dhabi, September 12 – ROSATOM participated at the 24th World Energy Congress, which was held from September 9 to 12 in Abu Dhabi, UAE. 
Under the theme "Energy for Prosperity", the Congress this year became a global leadership forum that defined the strategy for a collaborative, sustainable and innovative energy future that enables societal, commercial and community prosperity. Congress was held in the Middle East for the first time.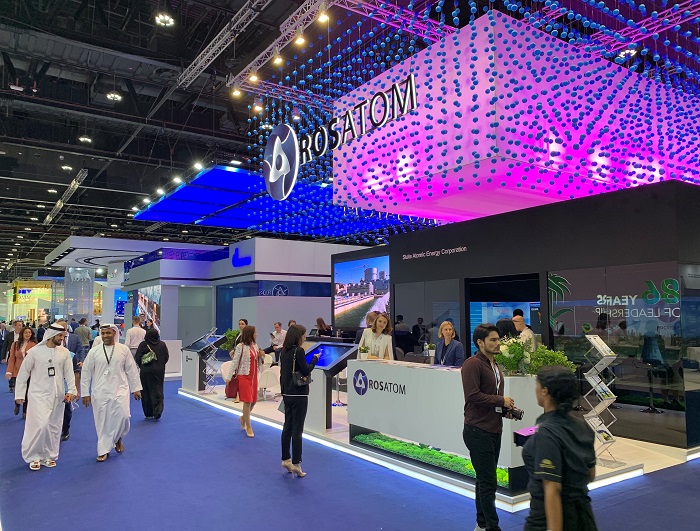 First Deputy Director General for Corporate Development and International Business of ROSATOM Kirill Komarov made a speech at the plenary session. Speaker noted that as the world is shifting from the traditional energy system to the modern economy where people and their needs take priority, the energy sector should be as flexible and adaptive to consumer's needs as possible. "An energy system where nuclear energy as a stable and reliable source of generation provides the base load is able to meet this demand" said Kirill Komarov. "At the same time, nuclear technologies cannot be reduced to simply meeting sustainable energy demand without negative impact on the environment. They also create new opportunities for self-actualization for the younger generation, give a strong impulse to development of other fields – science, education, industry. This directly contributes to improving the quality of life" he added.
World Nuclear Association held a panel discussion at the Congress venue. In addition to K. Komarov, leaders of such companies as Emirates Nuclear Energy Corporation (ENEC), Korea Electric Power Corporation (KEPCO), Electric Utility Company EDF Group (France), and China National Nuclear Corporation (CNNC) took part in the discussion. ROSATOM speaker noted the contribution of nuclear energy to the implementation of innovative solutions in response to current trends and challenges the energy sector is facing.
ROSATOM took part in the exhibition of the Congress. Booth of ROSATOM was popular among delegations of energy companies and visitors. At the booth the audience got acquainted with the different projects in nuclear power and non-nuclear energy areas, the characteristics of nuclear power plants based on VVER-1200 reactor, its safety and energy efficiency. The key element of the exposition was especially popular – interactive NPP model showing attendees various phases of Russian-designed NPP construction, VVER reactors evolution and wide geography of ROSATOM past and current projects in the world and MENA region. Visitors appreciated aesthetic composition and the high quality of the content displayed.
For reference:
The triennial World Energy Congress is the world's largest and most influential energy event covering all aspects of the energy agenda. Running since 1924, the Congress enables dialogue among Ministers, CEOs, policy-makers and industry practitioners on important developments in the energy sector. A flagship event of the World Energy Council, the Congress offers a unique platform for global dialogue to explore new energy futures, critical innovation areas, and new strategies needed to ensure sustainable, environmentally friendly energy. The next, 25th World Energy Congress will be held in 2022 in St. Petersburg, Russia.