Home"ship" with ocean views – what could be more romantic?.. This image appeared in the discussion of the project architect and the client, and immediately found the approval of both. House of red cedar and really similar to the glittering lights of the ocean liner.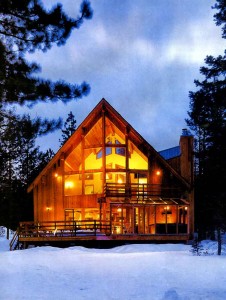 Design and construction: Lindal
Special patented design Lindal homes allowed the project to achieve his dream and build a house, in which the huge Windows from floor to ceiling would allow, at any time, day, and year to admire the magnificence of nature – ocean of space and the pine-covered coastal plain. Especially beautiful panoramic views, huge master bedroom on the second floor.
In the building plan also discern the outlines of the ship: the corner-"stem" form bedroom wall. On the ground floor is very spacious living room with fireplace and pool table. Both levels are connected centrally located staircase.
In addition to these premises, on the ground floor has a small living room, a kitchen, Laundry room, bathroom; on the second floor – two bedrooms and two bathrooms. Loggias, balconies, terraces more diversified dynamic and expressive facades of the original house.
A large area of the glass surface does not affect the comfort and warmth in the house due to the unique teplosberezheniya technology, which are manufactured homes Lindal. Although the construction was completed a few years ago, the owners with admiration note that the house is still filled with a delightful fresh scent canadian red cedar.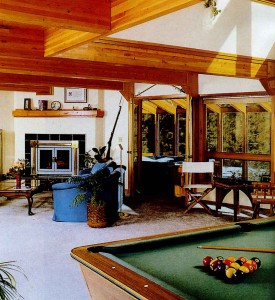 Huge pool table in the large living room-fireplace as stresses how spacious it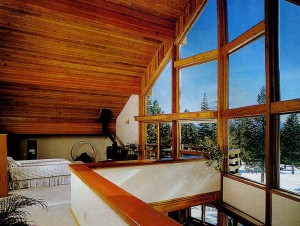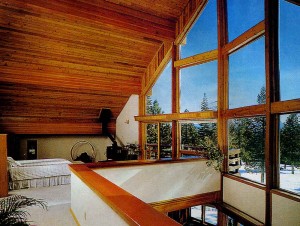 One of the walls of the master bedroom has a continuous glazing, opening panoramic view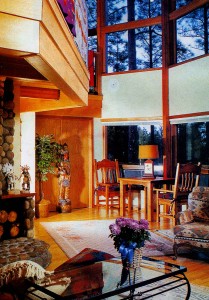 The facade of the house-boat.
Total area – m2 248,9
The area of the 1st floor – m2 146,7
Kitchen – 16.5 m2
Terrace – 24,0; 22,0 m2
Living – 50,7 m2
Small living room – 37,7 m2
Square 2 floor – to 102.2 m2
The bedroom is 27.3; 17,5; 17.5 m2