Modest and elegant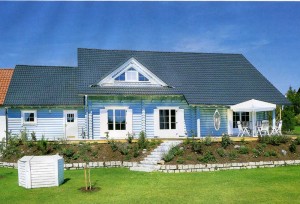 Design and construction: Honka
The dream of a luxurious in every way home today may well be embodied in the form of the structure of round logs. Modern architecture allows us to give a charm even the most massive home, which confirms, for example, the draft Hans Stemple. Triangular skylights enliven his big roof, and light color exterior trim and large windows give the house a delicate bindings ease.
"Flavor" and the center of the house is a gallery in the attic, which leads from the living room a wide staircase. In the attic is very light due to the large area of glazing and a wide triangular gable attic windows. On the first floor are located two tiers of windows living room with adjoining kitchen, two children's rooms, pantry, bathroom and guest toilet. Master bedroom – in the attic, there is an excellent fitness area with sauna and bath.
Utility room and two-car garage has attached to the house, which allowed to do without equipment basement ..
1 floor plan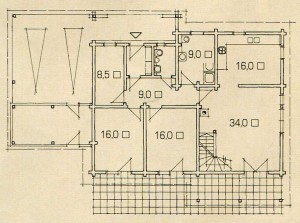 Plan 2 floors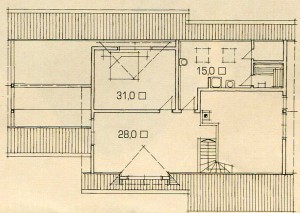 Total area – 189.0 m²
Area 1 floor – 11 m² Hall 5.0 – 3.5; 9.0 m²; Living room – 34.0 m² Children – 16.0; 16.0 m² Kitchen – Bathroom 16.0 m² – 9.0 m² Storage – 8.5 square meters bathroom – 3.0 mg
Area 2 floor – 74.0 sqm Bedroom – 31.0 m² Gallery – 28.0 m² Bathroom – 15.0 m²