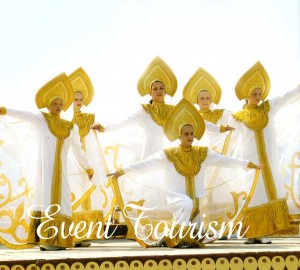 There are great number of festivals and other interesting events organized in the region.
New Year and Christmas — January, Nizhny Novgorod, Diveevo Sledding — January, Pavlovo
Russian Valenki (Felt Boot) Festival — February, Pavlovo
Goosefights and Cockfights — March, Pavlovo
Shrovetide — March, Nizhny Novgorod, Balakhna, Arzamas, Gorodets, Semenov, Diveevo
Easter — April, Nizhny Novgorod, Diveevo
Tourist festival — May, the meeting glade
near Tarasikha (Semenov raion)
Great Rivers Forum — May, Nizhny Novgorod
Folk Festival — May, Diveevo
Festival and other events devoted to Alexander Pushkin's birthday — June, 1st Sunday, Bolshoe Boldino
Andrey Sakharov Festival — end of June — start of July, Nizhny Novgorod
Pottery festival — June, Bogorodsk
Herdsman Festival — June, Pavlovo
Festival in Vladimirskoe and Kitezh Is the Soul of Russia
Festival — July, (Svetloyar lake) Voskresenskoe raion i City holiday — July, Pavlovo,
— September: Nizhny Novgorod, Gorodets, Balakhna
St. Seraphim of Sarov Events
(appropriation of St. Seraphim's relics) — August, Diveevo
Museum Festival — September, Gorodets
Russia United Forum — September, Nizhny Novgorod
Boldino Autumn — September, Bolshoe Boldino
Canary Songs Festival — December, Pavlovo
Golden khokhloma festival in Semenov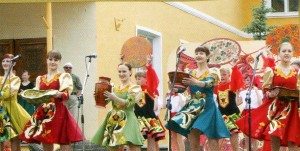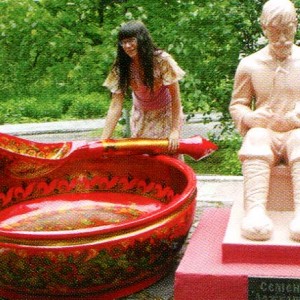 Golden Khokhloma is a three-day Arts and Crafts Festival that is held at the third week-end of June in Semenov. In March, 2004 the town was granted the title The Capital of Arts and Crafts. Since then the annual Arts and Crafts Festival is organized to demonstrate work of Russian and foreign craftsmen. The central square of Semenov becomes a large stage for concerts, shows and performances. Famous pop and folk bands take part in the festival. If you come there, you will be able to watch a play. A Story about Semen, a Spoon-Maker or take part in masterclasses on wood painting and carving, but some masterpieces of local craftsmen. A big spoon, 265 cm long, was the symbol of the first festival, a huge cup, over two meters in diameter, was the symbol of the second, for the third there was a super-matreshka made, a surprise for everybody. There is always nice, warm and cheery atmosphere at the festival.
Fellowship of craftsmen festival in Gorodets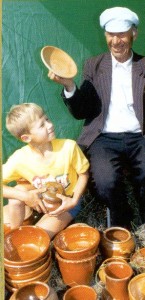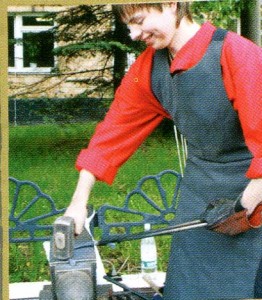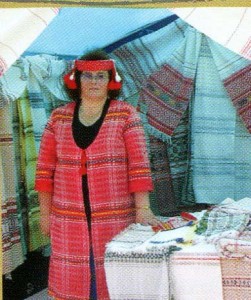 Last Sunday of July is the day when Fellowship of Craftsmen festival organized, one of the most interesting festivals organized in the oldest town of Nizhny Novgorod region. This is the festival of all arts and crafts of Nizhny Novgorod region as well as of Russia. Craftsmen from various regions take part in it. The festival in Gorodets is an event that will give unforgettable impressions as there are always shows and concerts organized, best regional folk bands are participants. There are various exhibitions, masterclasses and a trade fair. Gorodets is called the Town of Craftsmen and it really is. Local people keep traditions of wood carving and painting, golden embroidery and weaving, pottery and Zhbannikov pennywhistle making, gingerbread making and even pine root caning. Golden embroidery fashion show is event number one in the festival programme. There are also concerts, where you can listen to songs about Gorodets and music of local composers and saxophone players. Another event which is worth paying attention to is the town holiday. It takes place on the first September Sunday.
November, 4 – Unity and Solidarity day in Nizhbiy Novgorod and Balakhna.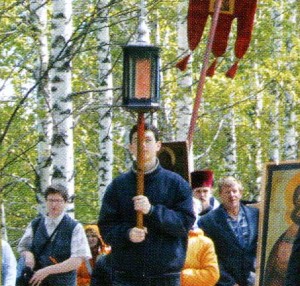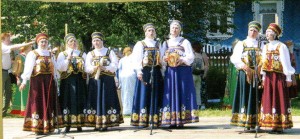 The roots of the militia that helped liberate Moscow from Polish invaders in 1612 are in Nizhny Novgorod region. Its first troops were from here, the leader of the militia was Kuzma Minin of Balakhna. In Nizhny Novgorod next to St John the Baptist Church and Ivanovskaya tower of the Kremlin there is an exact copy of Red Square statue of Minin and Pozharsky, which is now the second attribure of the city. On the 4th of November, the Unity and Solidarity Day, there are public ceremonials, performances and excursions around Nizhny Novgorod, Balakhna and Purekh, the estate of Dmitry Pozharsky, organized. Those who want to follow the militia route can take the so-called Motherland Shrine tourist route.