Moscow Metro
Moscow Metro
is on the busiest subway system in the world, only recently conceded the primacy of metro in Tokyo. The Moscow Metro is also famous for rich finish of many stations with wonderful examples of Soviet and modern time art era.
The first ideas to build the
Moscow Metro
– more precisely, the electrified underground railway – appeared in Moscow in the late XIX century. At the end of the XIX century railway construction and industrial development led to sharp increase in Moscow's size and a rise in its population. By then Moscow covered 710 sq km and was home to 978,500 people. Some 16,000 horse-drawn cars provided the main form of transport. Several project of Moscow Metro contraction were presented, but the revolution got on the way.
After Russian revolution Moscow population doubled and amounted to almost 4 million people between 1917 and 1930. The number of trams and buses increased and a network of trolley bus routes was established. However, all transport was at ground level and remained unable to satisfy the demands of the Moscow population. The problem of public transport rose especially sharply and the idea of Moscow Metro construction was reappeared.
Mayakovskaya Station construction. Photo was taken from metro.msk.ru
The first experiment tunnel was built in November of 1931 on Rusakovskaya Street. The heroism of the workers was romanticized and glorified in all media. Young people from all over the Soviet Union were invited to participate in metro construction. 36,000 people were employed for Moscow Metro construction by the end of 1933, while by the middle of the following year this figure had grown to 75,000. Work was done mainly by hand since there was a shortage of pneumatic hammers and a lack of rock loaders. The main tools used by the miners were pickaxes, spades and bars. Trolleys were also pulled by hand. The tunneling was accompanied by continuous timbering. A total of 9,013 miters of tunnels were built by cutting, 887 miters with the use of mechanical shields, 3,251 miters were built by the cut-and-cover method and 4,220 miters in an open cutting. If you have an interest for the history of Moscow metro construction, you should watch Russian film The volunteers, this interesting time is reflected in the movie really well.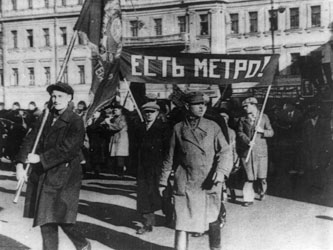 Volunteers in a march. Photo was taken from mosmetro.ru
Back to the Moscow Metro history… The underground train, which took on its first passengers at 7 am on May 15th of 1935, was seen as an amazing triumph of technology, a display of the power of human reason, and, of course an outstanding achievement of the Soviet Russia and socialism. The night before the Metro was opened, Muscovites assembled to wait outside the entrances to the first 13 stations. Beautifully executed and richly decorated architectural stations, palaces, filled with streams of light, hospitably opened the doors of the halls to Muscovites and the working people of whole entire country. The Soviet public rode down escalators, were given tickets that were good for 35 minuets, and joyously rode from Sokolniki to the Gorky Park and then were even able to transfer to what would later become the Arbat-Pokrovskaya line, to ride all the way to Smolenskaya station. After the opening, Moscow Metro became the inseparable part of Moscow city.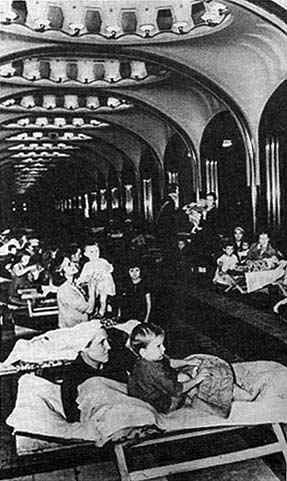 Mayakovskaya station during a raid by fascist bombers.

Photo taken from metro.molot.ru
Moscow Metro was very important defense site during World War II, the stations of the metro served as bomb shelters and saved hundreds of thousands of Muscovites. It shelter for military and government institutes.
After the WWII Soviet Union couldn't invest into Moscow Metro due difficult after war time. Some stations which were built at that time look just ordinary. In the 1970-1980s, during the Socialist era blossoming, the idea of decorating each station in unique way reappeared.
Nowadays Moscow metro is a good combination of reliability, comfort and transportation speed in tough conditions of a modern metropolis. It is the most popular kind of transport used by approximately 9 million passengers. At present Moscow metro share among other kinds of transport makes up 56%. Every day 9663 trains run over 12 lines of the system (301,2 km and 182 stations) with the minimum headway of 90 seconds.
Moscow metro fares start from 2011
Price is for amount of trips regardless of Moscow subway zones.
Tickets with limited number of rides
Tickets which valid 5 days, including the day of purchase:
1 ride – 28 Rubles
2 rides – 56 Rubles
1 passenger-luggage – 28 Rubles
1 ride and 1 passenger-luggage – 56 Rubles
Tickets which valid 45 days, including the day of purchase:
5 rides – 135 Rubles
10 rides – 265 Rubles
20 rides – 520 Rubles
60 rides – 1245 Rubles
Tickets valid for calendar month:
Metro travel card 70 rides – 1230 Rubles
Smart cards with unlimited number of rides

Tickets valid for calendar month:

Smart card for students of Moscow universities – 350 RublesTickets valid 30 days, including the day of purchase:

30-day smart card – 1710 Rubles

Tickets valid 90 days, including the day of purchase:

90-day smart card – 3485 Rubles

Tickets valid 365 days, including the day of purchase:

365-day smart card – 11430 Rubles



The Moscow Metro is increasingly a target for criticism – the crowds and the grim – although everyone understands that it is still
Moscow's most reliable form of transportation
. There are also countless urban legends surrounding the Metro, such as the one about the mysterious underground Metro-2 city, controlled by Special Forces, or about monsters that inhabit Metro tunnels, threatening brave tunnel explores.
Metro-2033
a book and video game by Dmitry Glukhovsky, in which the Moscow Metro is transformed into a world populated by survivors of a nuclear war, has reinforced our image of the amazing world under our feet. Of course none of this is as scary as the real-life threat of terrorist bombs.
Moscow Metro Rules*
Moscow metro is the main public transport of the capital carrying over a half of all city passengers. Many metro stations and ticket halls represent historical, cultural and architectural monuments and are protected by the government. Metro is a risk-prone transport enterprise, therefore passengers must conform to its rules.
Entrance and payment

Metro stations are open for passengers daily from 6 a.m. to 1 a.m. It's a violation to carry bulky luggage, fire weapons, bicycles, items that may damage other passengers; animals and birds without special containers or cages.

Passengers must pay the fare every time they enter metro. Make sure you buy a special luggage ticket to carry big items. Children under 7 can travel gratis; luggage under 150 sm. in size, sports equipment (skis, skates, roller-skates, snowboard, children's bicycles etc) in protective cover, musical instruments, baby carriages and hand-carts can be transported free of charge.
Metro ride

Never smoke, drink alcoholic beverages or be in the state of intoxication in the premises of Moscow metro. Avoid blocking passenger movement or dropping litter. Never damage metro constructions, tracks, equipment or rolling stock. It's a violation to ride a bicycle, wear roller skates, use skateboard or similar means of sports transport to move about metro. Professional filming and photography can be done only after obtaining a special permission from metro authorities. Amateur photography (without professional or stationery equipment) is allowed.

On escalators: stand on the right side, pass on the left side holding the hand-rail; stand behind the protective strip, never lean against motionless parts. If you are with a child, hold hands. Never sit or place objects on the stairs of escalators, run along them or walk on an idle escalator without metro workers' permission, never use escalator switch with the sign «Stop».

On platforms: stand away from the platform edge before the complete stop of a train, and after its complete stop clear the space at car doors to let passengers get out. Never descend to metro tracks or put items on them. Avoid entering metro industrial premises or taking photos of trains using flash.

In cars: do not lean against car doors, or open them when moving, avoid preventing passengers from entering or exiting a train. Do not use «passenger – metro driver» intercommunication system unless necessary and never place luggage on car seats.

*Information taken from mosmetro.ru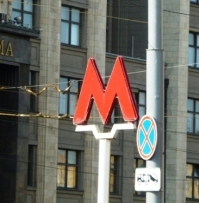 Moscow Metro is a beautiful attraction you must see while you are in Moscow. Every time I descend in the crowed escalator I am transported into another world. It might not seem as enchanting as it was when I was a child, but there is still something wondrous here. Every time I pass through Revolution Square (Ploschad Revolutsii) station I am amazed by the number of serious and harried adults who nerveless take the opportunity to touch the nose of the bronze dog, something that is supposed to bring good luck…
Please keep checking my page about Moscow Metro for information about the most beautiful Moscow Metro stations. It is coming soon…
If you planning to have your own sightseeing without Russian translation and be independent traveler, I have some ideas for your personal Moscow Metro journeys:
Rout 1

Start travel on green line from Mayakovskaya and got to Teatralnaya. Switch to red line, go to Ploschad Revolutsii and finish your ride on Kropotkinskaya metro station. If you get out on Kropotkinskaya, you can have lunch or dinner in Vanil restaurant, visit Cathedral of Christ the Savior and take a walk along the Moscow River to Moscow Kremlin and Red Square.
Rout 2

Start your travel on red line from Sokolniki metro station and visit following Moscow subway stations: Komsomolskaya, Kranye Vorota, Chistye Prudy, Lubyanka, Ohotnyi Ryad, Biblioteka Lenina, Park Kultury, and Vorobevy Gory. Go back to Biblioteka Lenina metro station and switch to light blue line to visit two stations – Arbatskaya and Smolenskaya. After this sightseeing, you can leave Moscow Metro and take a walk on Old Arbat – great Moscow historical and cultural attraction, location of Genazvale restaurant, and wonderful Russian souvenirs shopping street.
Rout 3Take a ride on metro ring line. Start your ride from Park Kultury and around: Oktyabrskaya (Gorky Park), Dobryninskaya, Paveletskaya – (Paveletsky Railway stations), Taganskaya, Kurskaya (Atruim Complex and Hot Dog's Bar 'n Grill, Kursky Train station), Komsomolskaya (Leningradsky, Yaraslavsky and Kazansky Railway stations), Prospekt Mira, Novoslobodakaya, Belorusskaya (Belorusskiy Railway station), Krasnopresnenskaya (Moscow Zoo), Kievskaya (Evropeiskiy shopping and entertainment center, Kievsky Rail station).
Your Moscow Russia Travel Guide
Related Posts
Moscow Metro Map | Moscow Kremlin | Moscow Red Square | St. Basil Cathedral | Lenin's Mausoleum | GUM Trading House | Cathedral of Christ the Savior | Bolshoi Theatre | Theaters in Moscow | Moscow Museums | Moscow River Cruises | Moscow Zoo | Moscow Cat Circus | VDNKH or All-Russia Exhibition Centre | Gorky Park

---

Home Page | About Me | Moscow Blog | Russian Visas | Travel Tips | Getting to Moscow | Getting Around Moscow | Hotels Guide | Luxury Hotels | Airport Hotels | Cheap Hotels | Hostels | Moscow Housing | Moscow Facts | Tourist Attractions | Moscow Skyscrapers | Entertainment | Shopping | Russia Facts | Government | Flag of Russia | Places to Visit | Russian Food | Culture of Russia | Russian Movies | Russia Wildlife | Russia Pictures | Russia Sports | Sochi Olympics