Your estate
Surrounded by olive trees, the house (company Honka) built in the best traditions of this Russian country estate, uniting in a single architectural whole lot of buildings for various purposes.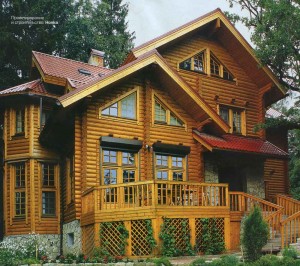 In this case, all these buildings of different heights under different roofs also like together in a massive three-storey building.
A wide staircase decorated with carved wooden lattices, will lead you to the massive doors. And behind this door, huge rooms, located on three floors.
Total floor area – m2 501,0
The area of the 1st floor – m2 242,0
Living – 62,0 m2
Kitchen – 35,0 m2
Dining room – 28,0 m2
Hall-45,0 m2
Tambour – 10,0 m2
Bedroom – 30,0; 25,0 m2
EN – 7,0 m2
The area of the 2nd floor – 174,0 m2
Bedroom – 25,0; 23,0; 25,0; 1 5,0 m2
Living – 48,0 m2
EN-21,0; 7,0 m2
Hall – 10,0 m2
Attic area – 85,0 m2
Hall – 35,0 m2
Bedroom – 23,0; 20,0 m2
EN – 7,0 m2