Thanks to the large Windows with thin covers in the house is always full of light. Natural finish wooden panelling creates an atmosphere of warmth and coziness. Against this background look good richer tone furniture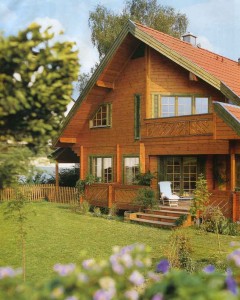 Solar architecture of wooden houses
Design and construction:Skcan-Domo
The basis of the architectural composition of this house is a dynamic figure of the roof and the asymmetry in the plan. Thanks rich plastic building perfectly blends with the surrounding landscape.

Bright interior provides large windows.
In the facades combined tones of natural wood, terracotta color tile and green decorative elements. Encircling the perimeter of the wide roof overhang allow to organize the house near the roof over the machine and protected from the wind covered entrance terrace 6 m2, on which to spend the time in any weather.
The unusual architecture of the house is reflected in internal planning. For transparent doors with thin covers visible living room, radiant rustic cosiness and hospitality. The play of light and colors is provided here with large areas of glazing doors and Windows and wooden walls and ceiling. The living room opens to the corner of the terrace, which, in turn, you can go down to the garden.
Living room and dining room form a single space and occupy the main part of the first floor. The kitchen area is increased due to a Bay window. In the attic in the Bay hosted a spacious bathroom.
The living room-dining room. The unusual location of the walls creates in the room cozy corners
Bathroom interior solved in three colors: natural tone of the ceiling, walls, floor, furniture – white, shades of green – house plants.
Successfully found the combination of the wooden walls and ceiling with shade floor tiles, set of kitchen furniture.
Total area – 156,0 m2 1 floor of 73.5 m2 Hallway – 4,5 m2 Living room-dining room – 44,0 m2 Cabinet – 8.5 m2 Kitchen – 11.0 m2 Pantry – 3,0 m2 Bathroom – 2,5 m2 2 floor of 82.5 m2 Bedroom – 10,0 m2 Dressing room – 6.0 m2 Children to 12.0; 13,0 m2 Studio – 16.5 m2 Bathroom – 12,0 m2 Sauna – 4.0 m2