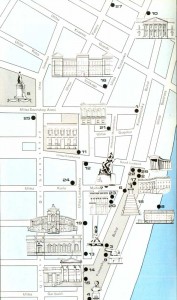 1. Malinovsky Monument 2. Glushko Monument 3. Pushkin Monument 4. Vakulenchuk Monument 5. Vorontsov Monument 6. Richelieu Monument 7. Monument to the heroes of the uprising on the battleship Potemkin 8. Sea Terminal 9. Crimean War (1853-1856) Memorial-A Cannon 10. Fine Arts Museum 11. Museum of History and Regional Studies 12. History Department of the Odessa Museum of History and Regional Studies 13. Naval Museum 14. Archeological Museum 15. Literary Museum 16. Odessa University 17. Semi-circular houses 18. Potemkin Stairway 19. Opera and Ballet Theatre 20. Seamen's Palace of Culture 21. Scientists' Club 22. Palace of Pioneers 23. Hotel Odessa 24. Kashtan Store (Ulitsa Karla Marksa) 25. Passazh (Hotel and Department Store)
26. Colonnade 27. Gorky State Science Library
The Historic Centre of the City
Primorsky Bulvar-Ploshchad Kommuny-Ulitsa Lastochkina—Ulitsa Deribasovskaya-Ploshchad -Armii-Ulitsa Sadovaya-Ulitsa Krasnoy Gvardii-Komsomolsky Bulvar-Primorsky Bulvar.
This route, which does not include visits to any of the museums, should take about two to two and a half hours.
Odessa was one of the few towns in pre-revolutionary Russia built in accordance with a plan which took into account the relief of the terrain. Drawn up in 1814, the plan kept to the main idea suggested by F. Devolan and approved by Field-Marshal Suvorov, that the main thoroughfares should start from the sea front.
The numbering of the houses also starts from the sea-end of the street, with the uneven numbers on the left side and the even ones on the right. There is only one exception-on III. Legend has it that number 13 was allocated to the house of a rich merchant and he insisted that the rule about even and uneven numbers be changed. This is a likely explanation as any for the even numbers on the street being on the left-hand side.
The initial period in the building of Odessa coincided with the flourishing of Russian classicism. A number of interesting buildings and entire ensembles were built at that time, including the Primorsky Bulvar (Promenade) with the Potemkin stairways, Ulitsa Pushkina (Pushkin St.), the building of the Museum of Fine Arts, and others.
This route begins with Odessa's first boulevard-the Primorsky bulvar (Promenade). Originally, this area was a huge wasteland crisscrossed by gullies, where the ruins of the old Turkish fortress stood. Work on the boulevard began in 1820 with the landscaping of the territory and the planting of trees.