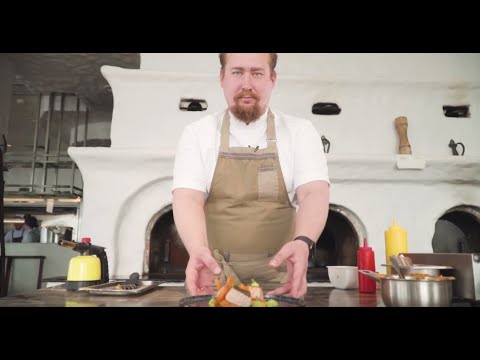 At Ruski, the chef likes to mix things up a bit, sometimes preparing traditional recipes authentically, sometimes recreating them with modern flair.
Sugudai is a traditional northern dish made of fresh, uncooked fish such as salmon, dressed with oil, vinegar or other acidic ingredient, green onions, fresh herbs and salt and pepper. Here it is dressed to perfection with the chef's own recipe, served with sharp pickled cucumbers and potato.
Pickled herring is elevated to a new level when presented on dark rye bread that has been soaked in honey, with a poached egg on the side. Create a masterpiece on your fork: salty, fishy, sweet, and soothing.
If you like to start your meal with a bowl of hot soup, try Ruski's classic borshch, served piping hot with the delightfully named pampushki (soft rolls with garlic), salo (Ukrainian cured pork), and a fresh green onion for crunch. Or order a bowl of slow-cooked cabbage soup, where the sharp cabbage is balanced by rich wild mushrooms.
As a main course, salmon at Ruski is prepared several ways, including the chef's trademark smoked fish, popped in the Russian stove to bake, and then served with sweet carrot puree.
Or you might try the more traditional pork ribs simmered in the stove for hours in sour cream and herbs until the meat is succulent and falling off the bones.
Be sure to wash it all down with handmade vodka infusions while enjoying the panoramic view of Moscow 354 meters high in the sky.
Ruski. 21 1st Krasnogvardeisky proyezd, Bldg. 2. 85 floor of OKO building, Moscow City. Mezhdunarodnaya Metro. +7 (495) 777 7111. //ruski.354group.com/en/
This article has been produced in partnership with Ruski.