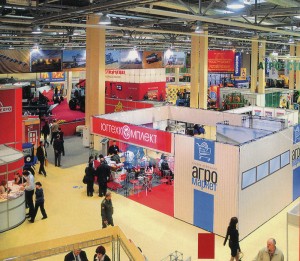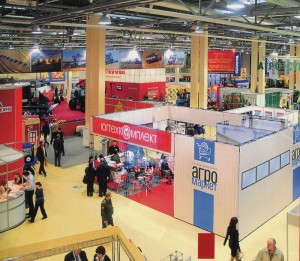 DE Die Ausstellungshalle des Kongress-Zentrums "WertolExpo".
EN Rostov-on-Don is the largest business center in the south of Russia. Annually more than 500 congresses, 100 specialized exhibitions are held in the city. Eight professional exhibition companies operate here. Among the leading exhibition companies are congress-exhibition center "VertolExpo" and congress-hotel "Don-Plaza", arranging South-Russia symposiums and outstanding forums, exhibitions, "round-table discussions", press-conferences and briefings with federal and regional mass media, seminars, presentations and trainings…
DE Rostow am Don ist das größte Business-Zentrum im Süden Russlands. In der Stadt werden jährlich mehr als 500 Kongresse und über 100 Fachausstellungen durchgeführt. Hier gibt es 8 professionelle Messe-Veranstaltungsfirmen. Die bekanntesten Veranstaltungsorte sind die Kongress-Zentrum "WertolExpo" und das Kongress-Hotel "Don-Plaza", in denen südrussische Symposien und bedeutende Foren, Messen, "Rundtisch" Diskussionen, Pressekonferenzen und Briefings mit föderalen und regionalen Massenmedien, Seminare, Präsentationen, Trainings usw. veranstaltet werden.