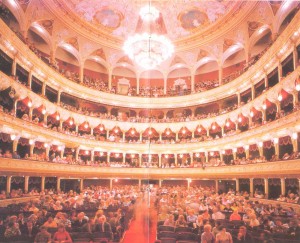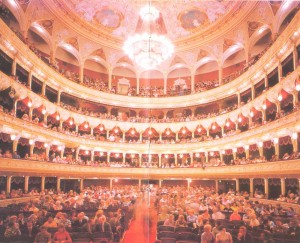 The cultural life of Odessa is rich and varied. There is something to please everyone in the world of arts.
There are six museums and the Exhibition Hall of the Ukrainian Artists' Union, six theatres, a Philharmonic Society, a circus, a Sports palace, which is often also used as a concert hall, 55 workers' clubs and Palaces of Culture, 20 cinemas (and in the summer another twenty open-air ones), and, finally, a big open-air theater in the Shevchenko Park.
Best known of all the theatres is the Odessa Opera and Ballet. The building is regarded as one of the finest in the world from "the point of view of architecture and also of acoustics.
Very popular with the people of Odessa and visitors are the art festival White Acacia held every other year from the 1st to the 10th of June since 1979. Its programme includes classical music, opera, ballet and drama, recitals by singers, actors, dancers, folk groups from the Ukraine, Russia, Moldavia, jazz and vocal-instrumental bands, variety, etc.
Famous artistes, singers and actors from Moscow, Saint Petersburg, Kiev and other cities take part, as well as such ensembles as the Moldavian Dance group "Joq", the Orenburg Russian Folk Choir, and so on. The Festival performances take place on all the main stages of Odessa, as well as in other towns and district centres of the region.
Apart from Kiev, Odessa is the only other city in the Ukraine to have a film studio..
Two regional newspapers are published in Odessa, as well as a youth paper, an evening paper and one catering especially for seamen.
A very large number of artists, writers, poets, composers, architects and journalists work in Odessa.
The Cultural Centre attached to the Travel Agency Intourist (14 Ul. Rozy Luxemburg) operates from May to October and caters to the needs of foreign tourists by arranging get-together with their Soviet counterparts, and with members of Friendship societies, shows Ukraine films dubbed in foreign languages, and sponsors theater performances and concerts.