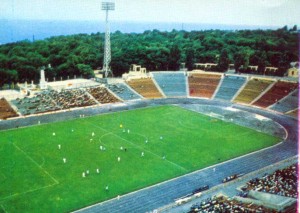 Odessa is the centre of a big health resort area, stretching from the lower reaches of the Dniester River to the mouth of the Danube. Along the Black Sea coast there are curative facilities of all types, mud-treatment, balneologic and climatologic.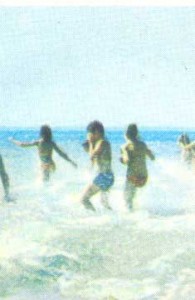 The treatment is based on the mud of the limans and the beneficial properties of natural brine. Liman mudtreatment has proved beneficial for disorders of the peripheric nervous system, for eliminating the aftereffects of brain damage, restoring limb movement, and it has also been found to have a beneficial effect on certain gastrointestinal and gynecological diseases. As for the mineral waters, they are prescribed to people with digestive troubles, cardiovascular disease and skin disease.
The sea around Odessa provides excellent bathing facilities since 75% of the waves do not exceed one metre in height, and there are only three to four days in the whole summer when high waves of 3-4 metres occur.
The water near the sandy beaches is clean and transparent and special care is taken to ensure that it remains that way. Sewage waters have been diverted from the beaches, and in the port zone special oil and sludge collector ships are constantly at work. No ship is allowed to discard either used water or solid wastes into the harbour area.
Until recently there were few beaches around Odessa convenient for bathing. This was the result of persistent landfalls as the sea was gradually biting out pieces of the coast. It has been estimated that about 700 hectares of coastland fell into the sea.

In recent years, however, steps have been taken to stop the landfalls by building spur dykes and breakwaters, as well as drainage systems, and land-based water removal installations. In addition, the coastal strip was leveled out and terraced, and trees were planted. Powerful pumps were used to carry sand from the seabed to the shore to form additional beaches, some of them 50-70 metres wide. Today they stretch for 40 km and cover a territory of about 200 hectares.
In the summer the sand on the beaches remains dry to a fairly considerable depth and swimming is good as the incline of the seabed is gradual. All this attracts tens of thousands of holidaymakers from all corners of the country to Odessa. In its nine health-resort districts it has seventy sanatorium, holiday homes and tourist camps that can cater for 400,000 people a year.
Its health resorts and holiday facilities are constantly being expanded and improved. Two new centres are now being built, one on the banks of the Kuyalnik Liman, which has vast deposits of medicinal mud, and the other 60 km from Odessa in the Carolino-Bugaz area, which is considered to have unique climatic conditions.