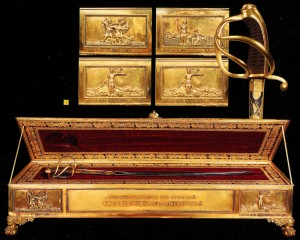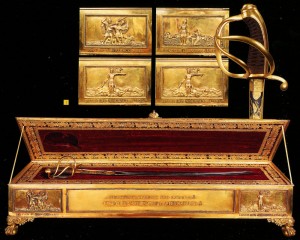 EN 1. Saber of emperor Alexander I. granted to Don Army by emperor Nikolai I in 1826 tor "Honors in the war of 1812-1814" in silver box (steel, silver, gilding, velvet).
Novotcherkassk museum of the Don Cossack History
DE Der Sabel des Kaisers Alexander I., geschenkt dem Don-Heer vom Kaiser Nikolaj I. im Jahre 1826, "Für Leistungen im Krieg von 1812-1814″. im Silberkästchen (Stahl. Silber. Vergoldung, Samt).
Museum der Don-Kosakentum-Geschichte in Nowotscher