The Memorandum of Understanding was signed between the State Research Center of the Russian Federation JSC "RPA "CNIITMASH" (belongs with JSC Atomenergomash, a machine-building division of ROSATOM) and Bureau Veritas Exploitation S.A.S (France) at the venue of Atomexpo Forum on the 15th of April. 
The document was signed by Victor Orlov, General Director of CNIITMASH and Renaud Dewaele, Сhief Сountry Еxecutive of Bureau Veritas Exploitation S.A.S.
According to MOU the parties expressed interest in organizing cooperation in the following areas: pooling qualified resources in Europe and Russia to provide potential customers with services in the field of welding procedure and welder performance qualification in compliance with the international standard requirements; development and provision of training on requirements to welding according to the European standards.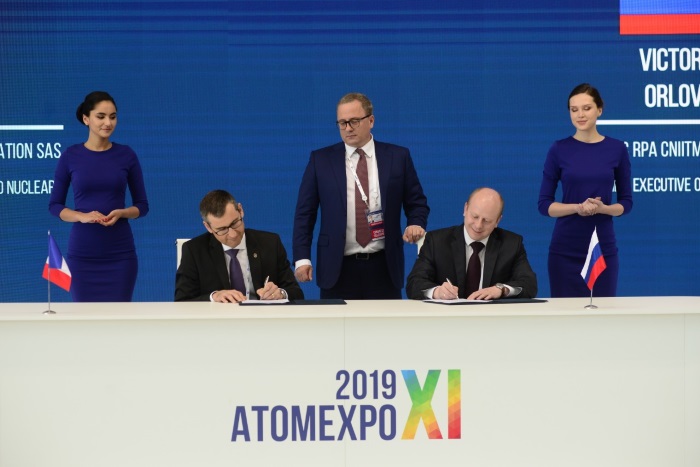 Victor Orlov, General Director of CNIITMASH mentioned: "Cooperation of CNIITMASH and Bureau Veritas will provide an opportunity to build in Russia an effective system of welders and welding procedures qualification for compliance with European standards and requirements. This cooperation will simplify the procedure for obtaining a work permit for our welders in the European market, and for the supply of equipment abroad for national manufacturing plants. This type of cooperation is unique for Russia, no one have ever done it here before. Hence, CNIITMASH, as a Contractor, provides the site and takes on the task of preparation of the qualification procedure according to European norms and standards, and arranges the consultations of the experts planning to be qualified in Bureau Veritas. Signing of this MOU is a final stage of setting up of a unique certification and qualification site. Presently there is a possibility of training and qualification as per any rules and regulations: NACWP, nuclear power, European standards, only in the grounds of CNIITMASH. There is no other site of the kind in Russia."
Renaud Dewaele, Сhief Сountry Еxecutive of Bureau Veritas Exploitation S.A.S. emphasized the interest of the international company in creating such alliances, which makes it possible to combine with max-imum effect the experience gained by Bureau Veritas during many years of work in the European welding qualification market and CNIITMASH knowledge about the specifics of operation of the Russian enterprises in this sphere. For several years Bureau Veritas has been intensifying efforts at the Russian nuclear industry market with the assistance of the leading companies in this field. The experience in forming work groups consisting of top-class experts and collective solution of urgent technical issues is a pledge of constant advance. We hope that our joint project with CNIITMASH on welding qualification according to the international standards will become the next step to globalization of the nuclear industry.
For reference:
Bureau Veritas, established in 1828, is a global leader in testing, inspection and qualification. High-quality services of Bureau Veritas help the customers to meet the increasing requirements in the field of quality, safety, environmental protection and social accountability. Bureau Veritas is recognized and accredited by the leading national and international organizations.