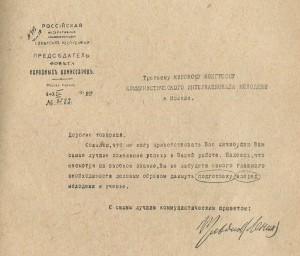 THE THIRD WORLD CONGRESS OF THE COMMUNIST INTERNATIONAL OF YOUTH IN MOSCOW.
Dear comrades!
Sorry I can't, welcome you personally. I send you my best wishes for success in your work. I hope that, despite the high rank, you will not forget the most important – the need business a way to move forward training of young people and knowledge.
With best Communist greeting
Century Ulyanov (Lenin). Works, so XXVII, page 371. Dictated by 4 December 1922, printed on 5 December 1922 in «Pravda» № 275.