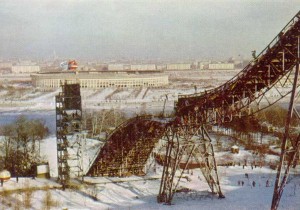 Walking along the Embankment
Moscow — the Russian word is Moskva — stands on a river that bears the same name. Incidentally, nowhere in Europe will you find a capital standing on a river of the same name. Rome, London and Paris stand on the Tiber, the Thames and the Seine. Only Moscow has this peculiarity.
Even in winter one easily perceives the beauty of the river's banks, which are clothed in granite and joined by broad bridges built by different architects. The latest is the Metro bridge, which was assembled on shore and delivered intact to the site. It is a double-tiered affair with a motor-road on top and a Metro underground railway station in lower storey which from inside seems naturally adorned by the scenery glimpsed through its glass walls.
At this point there is a bend in the river forming the "peninsula" of Luzhniki, the entire territory of which is occupied by the grounds of the Central Stadium. A climb to the opposite tall bank provides a splendid panoramic view of the huge football field in the vast concrete bowl with seats for 103,000 people. Next to it lies the swimming pool, the Smaller Field and the Sports Palace,
Strains of music are wafted across the river. Multicoloured lights twinkle amidst the snow-swept lawns and the trees and one can make out the tiny figures of ice-skaters. Is time for the day New Year fir-tree festivities to begin at the sports palace.